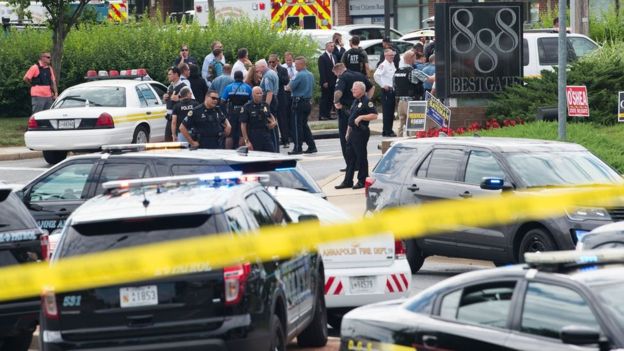 Five people have been killed and others injured by a gunman who targeted a local newspaper in the US state of Maryland. Staff at the Capital Gazette in Annapolis said the attacker, armed with a shotgun and smoke grenades, fired through a glass door into the newsroom. The suspect has been named by US media as Jarrod Ramos. He's reported to have had a long-standing feud with the paper after unsuccessfully suing for defamation in 2012.
Staff tweeted from inside the newsroom as the attack took place, describing their terror. Afterwards, they vowed to return to work and put out an edition of the paper on Friday.
Mass shootings in the US are becoming more common and more deadly, as this video explains. Here, we sum up America's gun culture in 10 charts.
EU summit latest
European leaders have reached an agreement on migration after 10 hours of difficult negotiations. Italy – one of the main entry points for thousands of mainly African migrants – had threatened to veto any deal unless other nations take a greater share of the burden. German Chancellor Angela Merkel, in particular, is under great pressure at home. Her political ally is threatening a mutiny on migration unless she comes up with a way to prevent new arrivals.
Migration isn't the crisis it was in 2015, but tensions have grown in recent weeks after Italy barred entry to migrant rescue ships, as BBC Europe editor Katya Adler explains.
Meanwhile, Theresa May has accused the EU of putting the safety of its citizens at risk by blocking agreements on security after the UK's departure. The summit is the last chance for the prime minister to address fellow leaders before October, when both sides hope a Brexit deal will be done. Splits in her cabinet are making things very difficult though and all eyes are now on a meeting at Chequers next Friday when it's hoped that ministers will finally be able to agree the UK's blueprint for its future relations with the EU.
Out of the group
England will play Colombia in the last 16 of the World Cup after losing 1-0 to Belgium. You can watch the highlights here, but be warned, chief football writer Phil McNulty says it was "a largely mediocre, lifeless encounter" punctuated by just one spectacular strike. Silver linings though, and the defeat means England avoid bookmakers' favourite Brazil if they reach the quarter-finals – check out the route they could now face through the knock-out stages.
The faces female football fans want you to see
By Laura Lea, BBC News website
Put "female football fan" into a search engine and the image results are a stream of attractive young women in tight shirts and, sometimes, no shirts. Tired of sexualisation and misrepresentation, some fans have decided it's time to level the playing field. "These images represent everything that's great about this game – how many different kinds of women go to matches and support. We need this realness," says Emma Townley, from online community This Fan Girl. She's talking about five images of female England fans taken ahead of this World Cup.
Read the full article
What the papers say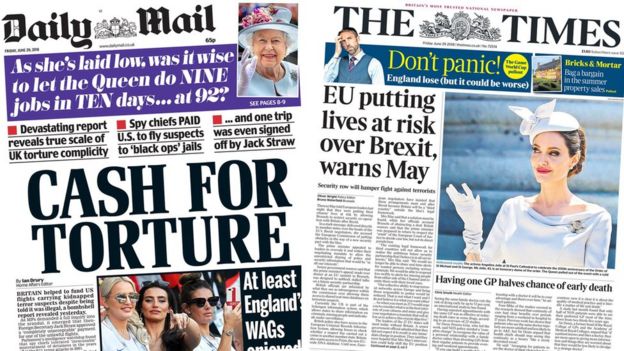 The papers weren't impressed by the quality of England's game against Belgium. It was "a lukewarm contest" and neither side seemed sure "whether they really wanted to win", says the Daily Mirror. "A game played like a testimonial never feels right at any World Cup," remarks the i. The Daily Express worries that coach Gareth Southgate "tried to overthink things" and says "a whole nation really hopes you know what you are doing". Everything will be fine though, as the Sun comments, "as long as you get the outcome you wanted". Elsewhere, most of the papers discuss the apparent impasse over the UK's Brexit deal. A cartoon in the Financial Times portrays the stars on the EU flag as the hours on a clock – and the time is five to midnight.
Daily digest
Mormon church Call to end children's sexual interviews
Cannabis Legalisation "would raise £1bn for the Treasury"
Consistency Why you should see the same doctor again and again
Windrush Individuals were "unlawfully and inappropriately" detained
If you see one thing today

When the US shot down an Iranian airliner
If you listen to one thing today

Journeys in Afrofuturism
If you read one thing today

These friends travel thousands of miles for a game of tag
Sign up for a morning briefing direct to your phone
Lookahead
10:30 Judge rules on whether there will be prosecutions of five defendants who have challenged charges against them relating to the Hillsborough disaster
Today Second day of the European Council meeting – with continued migration into the EU top of the agenda
On this day
1960 BBC Television Centre in White City opens with promises it will be the "Hollywood" of the small screen
From elsewhere
When food festivals go wrong (Guardian)
Growing up a British Asian girl meant acting like a double agent (The Pool)
What will the world's central banks do next? (Bloomberg)
To stop another Ebola outbreak, science went open source (Wired)
source:-bbc