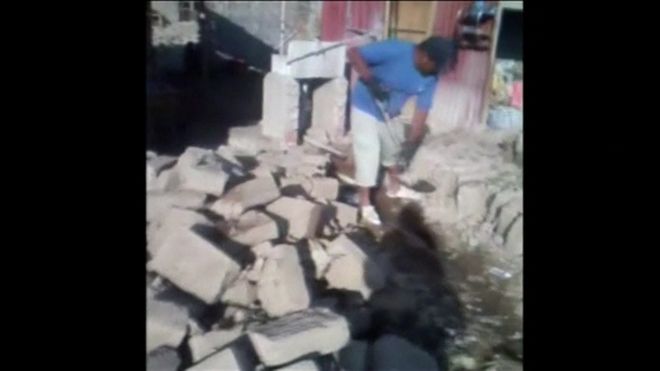 A 7.1-magnitude earthquake has left two people dead and 65 people injured in south-west Peru, the Peruvian government said.
The earthquake occurred at 04:18 local time (09:18 GMT) on Sunday.
The epicentre was in the Pacific Ocean and tremors could be felt over 36km (22 miles) away, according to the US Geological Survey.
Peruvian officials initially said they feared that 17 miners were missing after a mine collapsed.
But Peru's Health Minister, Abel Salinas, later said a rescue team at the mine said there were not 17 missing, according to local media.
The government also said strong tremors had been felt in the town of Lomas, some 26km from the epicentre.
The Arequipa regional governor, Yamila Osorio, said on Twitter (in Spanish) that a man had died in the town of Yauca, after being hit by a rock.
A second person died in the town of Bella Union after a building collapsed, the head of the Peruvian National Institute of Civil Defence told a radio station.
The Institute of Civil Defence has said that 65 people were injured in the Arequipa, Ica and Ayacucho regions.
Regional authorities said homes had been destroyed in a number of small towns.
SOURCE:-BBC