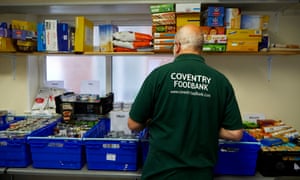 One of the abiding images at the start of the austerity era was that of the national finances being like a "household budget''. Used by ministers and some media, it was a neat way to sell cuts to the public as prudent economics, despite the fact that it was entirely misleading (unlike a household, governments can raise money through taxation and growth. It's with grim irony, then, that years later it's two Tory-run councils that are the first to face bankruptcy, pushed to the brink by Conservative policies.
Northamptonshire county council last week adopted an emergency cuts planto reduce services to skeleton levels as it attempts to close a £70m black hole. On Thursday, it backed the action plan to reduce spending during a crisis meeting. Children's services, road maintenance and waste management are among the areas facing "radical" cuts Days later, East Sussex county council said it was preparing to cut back services to the bare minimum to cope with a cash shortfall that could leave it bankrupt within three years. This will translate to anything from closed Sure Start centres or reduced local welfare funds, to the end of respite centres for disabled children. Each are vital services in their own right, services that most modern communities expect the state to deliver competently. But the crisis hitting local council finances is so severe that we are entering darker territory still, with councils warning they may be unable to meet even legal duties, such as social care for disabled and older people, in future without a sea change in local government funding.
Northamptonshire and East Sussex are the first to suffer this fate but they will not be the last; a number of other English county councils are drawing up "core offer" budget scenarios as they prepare for a future of decimated funding. Even core duties are being scaled back. Research by Citymetric found Manchester city council is due to eliminate a £60m gap by reducing the adult social care budget; in essence, balancing the books by depriving a paraplegic the right to go to the toilet.
This withdrawal of key services is only going to increase; research by the County Councils Network shows they face funding pressures amounting to £3.2bn over the next two years alone. And as if elderly and disabled citizens suffering isn't enough, vulnerable children are being sold down the river, too. The children's commissioner for England, Anne Longfield, has warned council funding problems could be "catastrophic" for children in care or on child protection registers as local authorities struggle even to fulfil these duties. Forget economic prudence, this is political negligence, in which a child in care can't even rely on the government to protect them.
Who exactly will be picking up the pieces? On Thursday, the government launched a new "big society"-style strategy encouraging the public sector and charities to play "a bigger role in the provision of public services", from social care and homelessness to libraries. As East Sussex county council admitted that unless central government increases funding, even services for vulnerable adults might be unaffordable by 2021, it tellingly added that "families and neighbourhood voluntary groups would have to take increasing responsibility" for supporting those older people who would no longer qualify for social care. It is not even subtle as a message: the safety net of the state is disintegrating and we're supposed to be the sticking plasters
This process has already begun. Over the last few -years, I've spoken to communities plugging the gap of councils across the county. There are the libraries in Lincoln where staff have been sacked and volunteer pensioners staff "hubs" a few days a week. Mothers in Bournemouth are handing out food parcels and toilet roll to children living in B&Bs. A few miles from my own street in Nottingham, there's a clothes bank – school shoes donated by kind strangers as council welfare funds close.
There is a tendency to romanticise this in certain circles – as the embodiment of a plucky British spirit or a sign of families and neighbours doing our duty. The Trussell Trust handing out a record number of food parcels year on year is said to be "rather uplifting", and a return to Victorian philanthropy in place of the state is being increasingly normalised. Just last week ministers said women would have to give up their jobs to look after their ageing parents in the case of care worker shortages from Brexit (men, apparently, are permitted to keep their careers). Indeed, as ministers said while launching their civil society strategy this week: "All this is happening because of the resourcefulness of the British people."
But make no mistake about what this means in practice; rather than, say, a disabled person having the dignity and security of social care entitlement, we are left at the mercy of asking a neighbour to help us dress. (If this seems like hyperbole, it already happens.) The original "big society", a concept conveniently twinned with the hollowing out of the state through austerity, should be a warning sign of how this ends; deprived communities given little more than soundbites to survive. With no little symbolism, last week it emerged councils were urging ministers to divert funding from David Cameron's failed big society youth scheme to squeezed council youth services.
Tory cuts are changing the landscape of the state. The unprecedented underfunding of local government is not only set to demolish services but the concept of government itself. As this crisis unfolds, beware ministers shifting the burden on to the public. It is nothing but their failure.
source:-theguardian