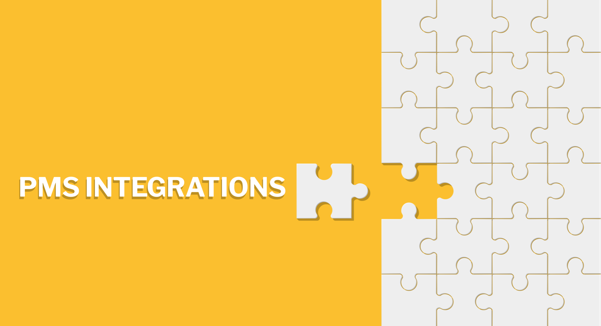 At the heart of operations, the property management system (PMS) powers efficiency and productivity across hotel departments, but is rarely a lone warrior when it comes to a hotel's technology. Even small hotels work with numerous tech systems, including payment processing systems, electronic locks, and online distribution channels. Along with the PMS, all of these systems are key to serving guests and rely on some of the same data: guest credit card payments are processed via a payment gateway and also recorded in the PMS; key cards and digital keys are encoded through the locking system using reservation information; and OTA bookings must be entered into the PMS and inventory adjusted on your OTA channels. If these systems are working in silos, your staff have to act as go-betweens, manually duplicating data across systems, which is time consuming and prone to human error.
You know what they say about teamwork—well, that applies to your hotel tech too. Through direct integration, your PMS can work with your other hotel systems to automate processes and save hotel staff a lot of time. Here are six key PMS integrations that will further enhance operational efficiency so that you and your team can spend less time behind a computer and more time providing an even better guest experience.\
Channel Management
Third-party distribution channels, including GDS, OTA and metasearch channels, are a crucial component of almost any hotel's distribution strategy. With their big advertising budgets and expansive reach, these purpose-built travel aggregators make properties more visible online and bring in a big chunk of bookings. When your online distribution channels are not connected with your PMS, your property's availability and rates have to be updated to each of those channels manually, and reservations coming through them must be manually entered into your PMS. It's an ongoing and time-consuming task with a high risk of overbooking if availability is not updated fast enough.
But there's a better way. Two-way integration between a hotel's PMS and channel partner automates this important process, eliminating the need to duplicate data manually and improving accuracy. Through the integration, the PMS automatically pushes allocated inventory to the channel partner, including inventory updates and overrides. When a booking is made through a channel partner, the reservation data is automatically sent to the PMS and availability is automatically adjusted across all connected channels. Say goodbye to overbooking and hello to having more time for your guests!
Payment Processing
If your property accepts card payments you'll be working with a payment gateway, which securely communicates the guest's payment information to the payment processing network. If your payment gateway is not integrated with your PMS, approved transactions must be manually posted to reservations in the PMS, slowing down the check-in/check-out process. With a payment gateway integration, payment information entered into the booking form is automatically sent through the payment processing network and transactions are automatically posted in the PMS in real time.
Not only that, but a payment gateway integration also steps up security with point-to-point encryption and tokenization to protect credit card data from hackers and keep credit card numbers out of the PMS for PCI compliance. If you want to accept online payments through your property's website, payment gateway integration is a must for an automated and secure online booking process and contactless check-in experience.
Simplifying payments, authorizations and refunds, and improving security, payment gateway integration is one of the most important PMS integrations for any property.
Room Access
Electronic lock and digital key integrations simplify access management and also speed up the check-in process. Key cards have been widely used across all hotel segments for decades. Times are now changing and more and more properties are shifting to digital (mobile) key solutions. Either way, let's look at how integrating your room access solution with your PMS makes life at the front desk easier.
A key card integration allows key cards to be encoded and managed directly through the PMS, which automatically sends relevant reservation data (room number, length of stay, etc.) to the key card system. This means that front desk staff no longer have to re-enter this information into the key card system manually, they just have to swipe the card to encode it.
If your property is using a keyless access solution (mobile key or keypad locks), integration with the PMS automates key delivery to the guest upon check-in. In this case, the PMS automatically sends reservation data to your keyless access solution, which then generates a mobile key or keycode for the guest, automatically activating the key upon check-in and deactivating it upon check-out.
Whether you want to implement a seamless contactless check-in experience or streamline check-in at the front desk, integrating your PMS with your locking system is key (pun intended).
Point of Sale (POS)
Along with the PMS, a POS system is essential for properties with an on-site restaurant. These core systems are a great example of two systems that work better together. Without a connection between the two, restaurant charges that are to be charged to a guest's room must be communicated to the front desk and manually added to the reservation folio in the PMS. This manual process not only adds yet another administrative task to your front desk's to-do list, but is prone to human error and billing discrepancies that can result in dissatisfied guests and lost revenue.
When the POS system is integrated with the PMS, the software completes this task for you in real time. When a guest wants to charge a meal to their room, the transaction is entered into the POS system, which—via the integration—automatically queries the PMS to verify guest status, room number, and credit authorization limit. If the charge is approved, the POS system automatically posts the charge to the reservation folio in the PMS.
Automating the process of posting restaurant charges to reservations with a PMS + POS integration not only saves hotel staff time but ensures billing accuracy, reducing customer complaints and preventing lost revenue.
Revenue Management
The unprecedented market environment brought about by the pandemic has turned many hotels toward revenue management software (RMS) to better navigate and optimize room pricing. Continuously consolidating and analyzing hotel and market data to produce pricing recommendations based on sophisticated algorithms, automated RMS improve demand forecasting and remove the guesswork from the pricing process, saving hotel operators a lot of time poring through data and trying to foresee the future.
Integrated with the PMS, the combined solution saves even more time. PMS data (including reservations, inventory, and availability) is a critical part of the revenue management equation and must be updated in the RMS in a timely, ongoing manner. Without an integration, that task is the responsibility of—you guessed it—you or your staff. But when your PMS and RMS are connected, all relevant PMS data is automatically passed along to the RMS via the integration at a transactional level for optimal forecasting accuracy, pricing and inventory control. In turn, accepted pricing recommendations generated by the RMS need to be updated to the PMS and the integration can do this too.
Separately, both the PMS and RMS drive efficiency and revenue, but together they make an even more powerful team.
SMS / Guest Messaging
The pandemic also accelerated the adoption of guest messaging / SMS applications to address the need for clear communications and contactless services. Mobile messaging is the preferred mode of communication for many guests, but if it isn't integrated into hotel operations properly it can be inefficient and cause customer dissatisfaction.
How can staff find the time to manage another communication channel? A successful guest messaging strategy depends on PMS integration. The integration between a guest messaging platform and PMS automatically sends reservation data to the messaging application in real time to trigger personalized routine text messages to guests prior to arrival, at check-in, during their stay and upon departure as defined by the property. Incoming messages and requests from guests are automatically matched to the guest's reservation data to identify the guest and resolve issues faster.
As guest messaging becomes a more prevalent guest communication channel for hotels, integration with the PMS maximizes efficiency by automating routine communications and ensuring no guest slips through the cracks.
Hotel technology is designed to increase productivity and revenue and, just like people, your hotel systems can work better together to achieve their full potential.
["source=hoteltechreport"]