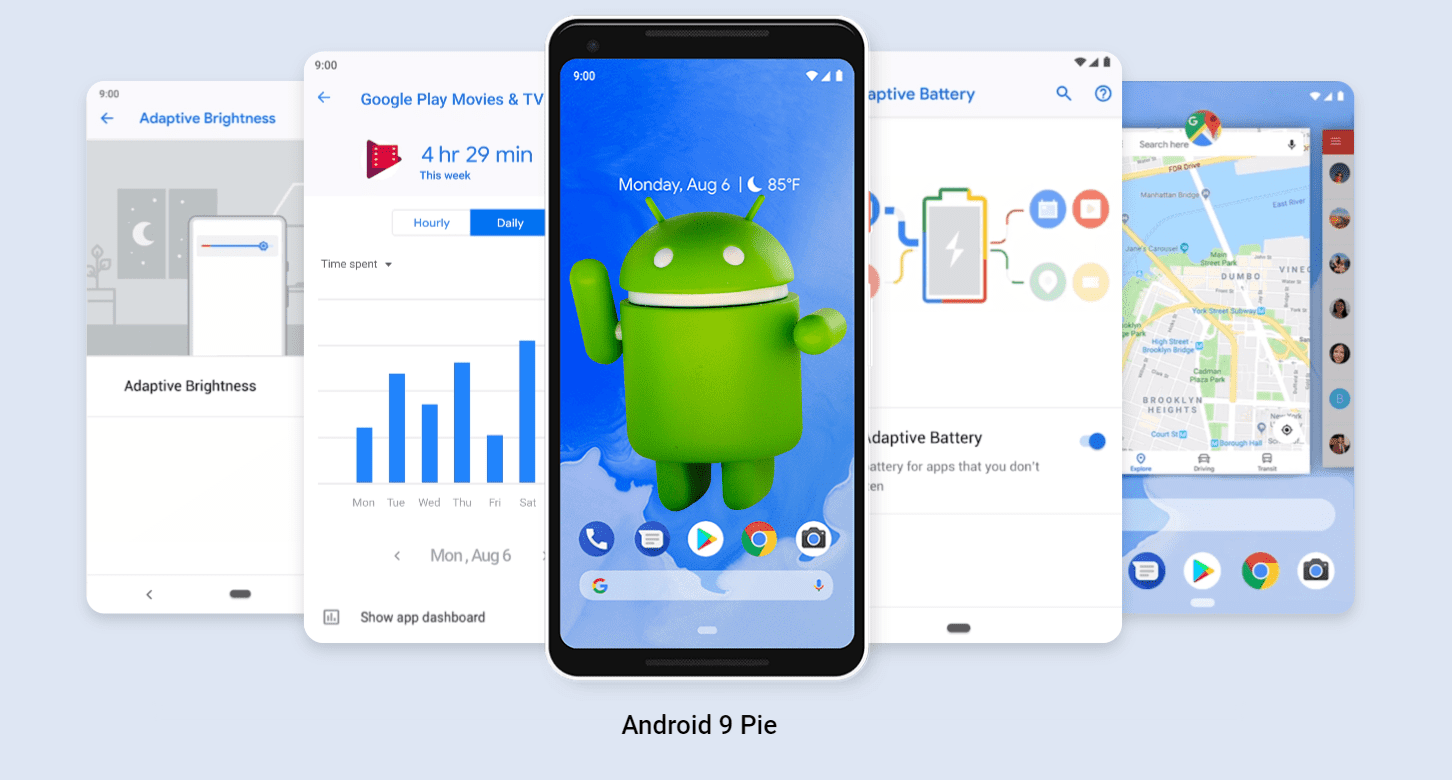 Google has launched a long-awaited new version of its Android smartphone operating system (OS), bringing with it a revamped notifications menu and tweaks to improve battery performance.
After months of pre-launch testing under the name Android P, the ninth version of the smartphone software is available to download today for free on Google's range of Pixel phones. It will be released on other Android-powered devices over the coming weeks and months.
Two of the system's main features, Digital Wellbeing and Slices, will not be available on release day, however. Google plans to make them available in the autumn.
Until then, here's everything you need to know about Android Pie:
What is Android Pie?
Android Pie is a new mobile operating system (OS) designed for smartphones and tablets.
Google names its Android OSs after sweets and desserts, rather than referring to each software version by number. Previous names have included Jelly Bean, Honeycomb and Marshmallow.
Pie will replace Android Oreo, also referred to as version 8.0, which is currently used on flagship smartphones including the Samsung Galaxy S8 and Google Pixel 2.
The OS will not be available on iPhones or iPads, since Apple develops its own software, called iOS, which is exclusive to its own devices.
When does Android Pie come out?
That depends on which phone you use. Those with either a Google Pixel or Pixel 2 can download Android Pie for free from today, but The Verge says the new system won't be available on other phones – such as the Samsung Galaxy S9 or OnePlus 6 – until later this year.
While Pixel owners get to use Android Pie before anyone else, a number of key features will not arrive until the autumn, the tech site says. These include the new Digital Wellbeing apps aimed at helping users cut back on the amount of time they spend on their smartphone.
What's new in Android Pie?
Android Pie is packed with new features, many of which are designed to make the software more intuitive to use.
One of the major additions coming to the operating system is Digital Wellbeing, although it won't be available until later this year.
This feature helps users cut back on the amount of time they spend on their smartphone, allowing them to monitor how often they unlock their device and how long they use specific apps, The Guardian says. Users can even set timers that will tick down once they begin using an app.
The second locked feature is Slices, which shows snippets of information directly from certain apps within the Google search app, the newspaper says. For instance, Slices will show live travel times and prices if a user searches for Uber on Google.
Much like Digital Wellbeing, Slices is expected to arrive in the coming months.
What will be coming to Android Pie at launch, though, is a vastly improved notifications system, Metro reports.
The latest software now allows users to interact with drop down notifications in several ways, such as tapping on them to launch apps, the news site says. Users can also select from a number of quick responses when tapping notifications, similar to those offered on smartwatches.
Plus, Google has also revamped the way users navigate their smartphone, says Digital Trends.
Instead of using the trio of buttons that have appeared on Android phones for years, users can navigate the operating system with a series of gestures and swiping motions, the tech site says. Gesture controls are not turned on by default, so users need to head into their phone's settings menu to activate them.
Will Android Pie boost battery life?
Apparently so. Google has created an artificial intelligence (AI) system that has been designed to eke out as much battery life as possible.
The first area focuses on how processors manage tasks. Android Pie has been designed to force processing chips to use their smaller cores more often to stretch battery life without comprising on performance, the BBC says.
This is because some chip makers focus on speed over efficiency, which can lead to phones using more power than needed.
Second, the new system analyses a user's smartphone activity over the course of a day and adjusts the power output to meet the demands of battery-intensive apps, the broadcaster says.
For instance, if a user plays a video game on their phone at 6pm every evening, Android Pie will anticipate the app opening in advance and unlock more of the mobile's processing speed. Similarly, if a user surfs the internet between 8am and 11am, the software delivers only enough power to run the app and the phone's core systems.