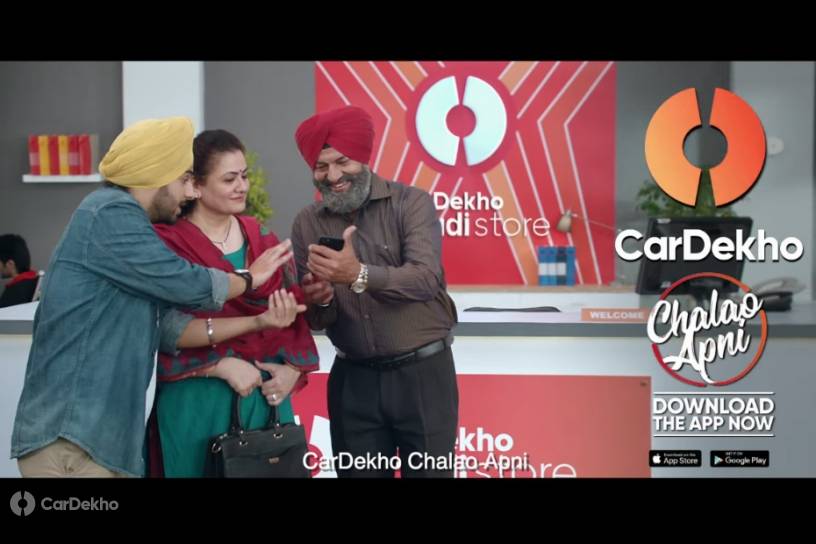 CarDekho, India's leading full-stack auto tech company, launched a TV commercial campaign focused on its offline CarDekho Gaadi stores. The company has highlighted quick and easy solutions to the entire journey of buying new cars and selling used cars effortlessly. The commercial depicts the story of two generations wanting to sell their old car and get the best price for it without hassles. The TVC underlines the message that a CarDekho Gaadi store is the one-stop place for all used car customers. The commercial was released on all top channels on September 13th.
The brand has highlighted the hectic schedules and long work hours of today's customer, where taking out time for finding the right car and selling your car seems almost impossible. The commercial shows how CarDekho Gaadi's tech ecosystem can make the task easy and hassle-free. Mr Gaurav Mehta, Chief Marketing Officer, CarDekho Group, said "In the last fiscal year, 4 million second-hand cars were bought and sold in India while new car sales stood at 3.6 million units. An existing car owner always sells the existing car before buying the new car. Only a technology player can bring these two aspects together in an industry that is trust-deficit. This consumer behaviour is till some time back had been largely offline. Now CarDekho's tech ecosystem is enabling that through an online-offline business model. Used Cars industry is a trust-deficit industry and we believe through our understanding of the Auto industry and synergizing of online & offline legs of the consumer journey; car buying & selling will be seamless.
The ad borrows from social insights such as time paucity, lifestyle changes leading to car decisioning and brings the best solution for their needs. We believe the TVC presents a solution to the current market gaps and helps the consumer derive more value in the car selling & buying process."
Speaking about the campaign Rajdeepak Das, Managing Director India and Chief Creative Officer Leo Burnett South Asia said "This campaign takes forward the Chalao Apni proposition and is based on the cultural insight that often the older generation complaints that the younger generation doesn't have time for them. But the beauty of the new generation is that even in the fast paced clutter of life they always find ways to fulfil their responsibilities. And brands like CarDekho contribute to this by creating an ecosystem which enables buying and selling of cars under one roof through the ease of your phone."
The TVC is directed by famous writer and director Shashank Khaitan, known for his work in Hindi cinema. Shashank is a television host and celebrity judge on the show "Dance Deewane" with Madhuri Dixit. He has directed films like "Humpty Sharma Ki Dulhania", "Badrinath Ki Dulhania" and "Dhadhak".   CarDekho group has till date opened 58 Gaadi stores across Delhi-NCR, Bangalore, Jaipur, Pune, Lucknow, Ahmedabad, Hyderabad, Karnal, Mumbai, Jodhpur and Udaipur. The company has plans to launch 200 such stores by Dec 2020. The CarDekho Gaadi Store aims to be a one-stop destination for customers looking for pre-used cars. The store also helps customers with RC transfer, loan closure assistance, instant money transfer, and methodical inspection of cars. The ad is created by Leo Burnett and has successfully brought in the right imagery needed to deliver the message.
["source=cardekho"]