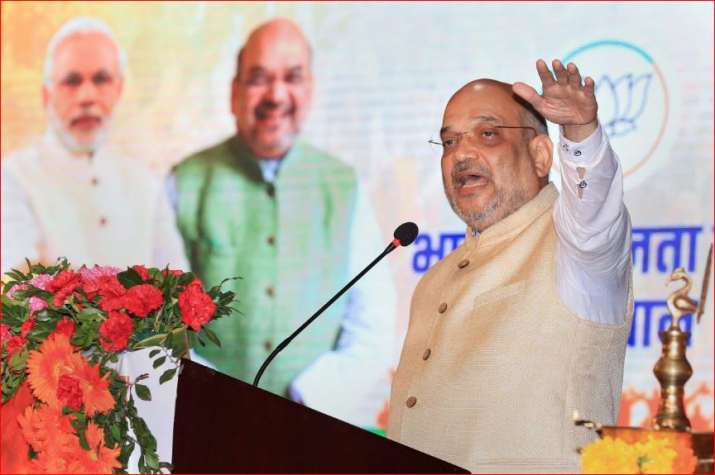 In a significant statement, BJP president Amit Shah on Saturday said that the Centre will soon come out with a solution to rising petrol and diesel prices.
Talking to media persons in Hyderabad, Amit Shah conceded that both the BJP and the Centre were concerned over rising fuel prices as well as dipping rupee value.
However, he blamed international developments for rising fuel prices and depreciation of rupee.
Petrol and diesel prices have scaled new highs since mid-August due to a combination of a dip in rupee value against the US dollar and the rise in crude oil prices.
"The increasing petrol and diesel prices and sliding rupee against dollar are a cause of concern for both the BJP (Bharatiya Janata Party) and the government," Shah told reporters here.
"It was due to some developments that took place globally. (The) Trade war between US and China and issues between the US and oil producing countries. Because of these global reasons these developments are taking place," he added.
"We are also concerned about this. Solution is also being found out. Within short time, the government will take a stand on these issues and come out," he said further.
But Shah made it clear that the impact on rupee was "far less" than compared to other currencies.
The Opposition parties led by Congress had on September 10 called for a nationwide shutdown to protest against the escalating prices of fuel and other essential items.
Replying to a query on the arrest warrant issued by the Dharmabad court in Maharashtra against Andhra Pradesh Chief Minister N Chandrababu Naidu and some of his party functionaries, Shah said the BJP had got nothing to do with it.
The warrant was issued in a case related to an agitation that Naidu, then in the Opposition in united Andhra Pradesh, undertook over Babli project on Godavari river in 2010.
He said there were Congress governments in both Andhra Pradesh and Maharashtra during 2010 when the case was taken up by the court.
"Now Chandrababu is trying to have tie up with those pursuing vendetta against him. He was trying to gain sympathy out of the issue," Shah said.
The BJP chief said the case was filed in 2010 and police filed a charge sheet in 2013. Naidu did not respond even after several summons were issued by the court against him, Shah alleged.s
source:-indiatvnews.