More than 300 aftershocks recorded and Spanish Red Cross says as many as 100,000 people may need assistance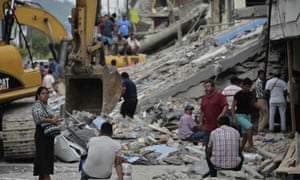 The death toll from the 7.8-magnitude earthquake in Ecuador has risen to 413, and many survivors are believed to still be trapped inside collapsed buildings.
The government announced the updated toll on Monday night. The security minister, César Navas, said rescuers were continuing to search for victims and survivors.
More than 300 aftershocks have rattled Ecuador in the 36 hours since Saturday's quake, some measuring as high as magnitude 6.1, according to the country's Geophysics Institute.
Ecuador's president, Rafael Correa, said citizens would pull together after the disaster. "The Ecuadorian spirit knows how to move forward, and will know how to overcome these very difficult moments," he said.
Early on Monday, rescuers pulled three people from the rubble alive after they had spent more than 32 hours trapped in the ruins of a shopping centre in the city of Manta.
Firefighters cut a 70cm hole in concrete to pull out two women and a young man, who were rushed to a nearby hospital. A third woman remained trapped and was being given water while rescuers tried to lift a concrete slab pinning down her legs.
More than 2,500 people were injured in the disaster, which brought down housing blocks and air traffic control towers, buckled bridges and cracked pavements. In the coastal town of Chamanga, authorities estimated that more than 90% of homes had been damaged.
At least 100 of those killed in the quake were citizens of the regional capital Portoviejo. They included the Quinde family – a mother, father, teenage daughter and toddler son – killed when a four-storey hotel collapsed on their car.
The Quindes were en route to drop off Sayira, 17, for her first term at university, where she had won a scholarship to study medicine. "I never thought my life would be destroyed in a minute," her aunt Johana Estupiñan told AP.
Few buildings in the city centre had escaped damage: some had lost a few bricks, but others had been reduced to rubble. "It looks like there's been a war," said Cesar Velasco, who works for a transport company.
At the Aki supermarket market, survivors stocked up on bottled water, juices, bread – and styrofoam plates to replace shattered crockery. Elsewhere in the provincial capital of 300,000, there were reports of looting as survivors stole clothing and shoes from shattered buildings.
On the road to Portoviejo, a steady stream of ambulances transported the critically injured from the region toward hospitals in Guayaquil, which is 130 miles away and not as severely affected by the earthquake.
At a girls' school in Playa Prieta, six members of staff including a Northern Irish nun were killed when the building collapsed. Sister Clare, 33, from Derry, was a nun in the Home of the Mother order. Her family said they believed she had been trying to lead colleagues out of the school to safety when a stairwell collapsed.
"She was trying to get them down the stairs and the staircase collapsed. We knew she was trapped but information has been slow to come out," her cousin Emmet Doyle said. "She died as she lived, helping others."
Two Canadian citizens, mother and son Jennifer and Arthur Flawn from Quebec, were also among the dead, the family confirmed to Canada's CTV News.
Warning of the continued risk of aftershocks, radio and television broadcasts recommended residents have a small backpack ready with water, tinned tuna and a flashlight near the door of their homes.
The Spanish Red Cross said as many as 100,000 people may need assistance in holiday towns and fishing villages in the more remote regions near the epicentre of the quake, where citizens have been sleeping outside among the ruins.
The charity said it estimated that 3,000 to 5,000 people needed temporary housing. About 800 volunteers and staff members with the Ecuadorian Red Cross were involved with search and rescue operations and helping provide first aid.
Spain has sent a military plane with 47 search and rescue experts and their five dogs to Ecuador, and it is expected to arrive in Guayaquil on Monday afternoon. Other rescue teams have flown in from Mexico and Colombia.
Local radio reported that two lorries filled with emergency supplies had been carjacked as they headed to the worst-affected areas.
[Source:- Gurdian]