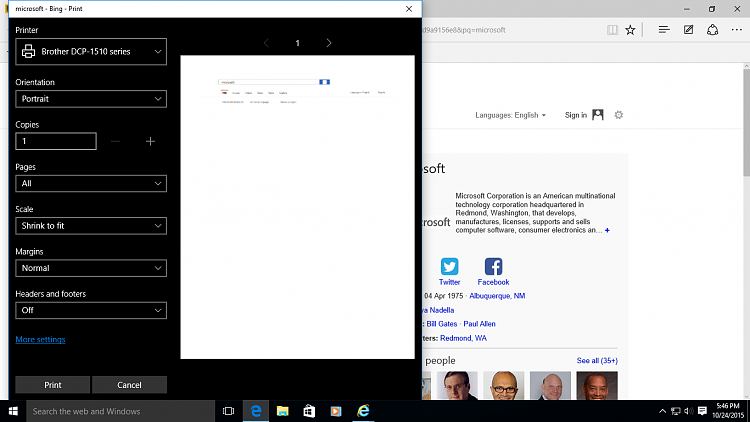 b
How do I print web pages in Edge?
Microsoft Edge features all of the standard print tools for creating copies of web pages; those important stories and official forms can be physically printed on your printer, or they can be converted to PDF for further editing. Here's everything you need to know about printing from Edge for Windows 10.
A look at Edge's print settings
For anyone unfamiliar with printing from the web, here's a look at the print settings in Edge.
Printer: Choose which printer you'd like to use.
Orientation: Choose from Portrait or Landscape.
Copies: Choose how many full copies of the printing job you want to be printed.
Pages: Choose from all pages, the current page shown in the preview, or page range. You can specify the range yourself by typing, for example, 5-7.
Scale: Change how large you'd like text and images to appear.
Margins: Set how wide or narrow you'd like the margins to be on printed pages.
Headers and footers: Toggle on and off. When on, the article's title, the website, and the page number will be displayed at the top of the page, while the URL and date will be displayed at the bottom of the page.
For more settings, click More settings near the bottom of the print window.
Collation: Choose from collated or uncollated. Collated print jobs involving multiple copies will print in sequence, making it easier for physical distribution and binding. Uncollated print jobs with multiple copies will print out of sequence, i.e. four copies of page one, then four copies of page two, etc.
Pages per sheet: Choose how many pages you want to see on each sheet of paper. Scaling will occur.
Paper size: Choose the paper size you're currently using in your printer.
Paper type: Choose the type of paper you're currently using in your printer.
Paper tray: Choose which tray on your printer to use.



How to print a webpage

First things first; here's how to print a page as-is in Edge.

Launch Edge from your Start menu, taskbar, or desktop.
Navigate to a webpage you want to print.
Click the More button in the top-right corner of the window. It looks like •••
[Source:- Windowscentral]