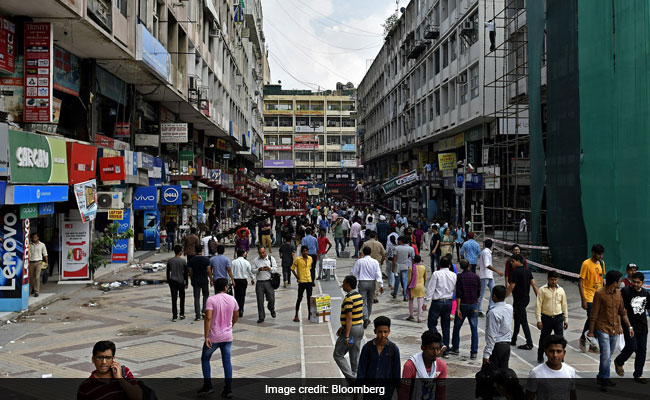 India will use the fund on research and development of digital assets to boost economic growth.
HIGHLIGHTS
Israel wants to expand deeply into India's market of 1.3 billion people
India wants Israeli technology to move the country into the digital age
Trade between India and Israel has grown to $4.2 billion since 1992
Israel and India launched a technology fund today aimed at growing the countries' business relationship, and signed seven accords boosting cooperation in areas ranging from space research to water and agriculture. The Israel India Innovation Initiative Fund, or I4F, was announced during an unprecedented visit to Israel by Prime Minister Narendra Modi, who is looking for military and other technologies as he seeks to move his country aggressively into the digital age. Israel, whose export-focused economy relies heavily on technology, is eager to penetrate India's market of 1.3 billion citizens.
The two governments today announced a strategic partnership for water that focuses on conservation, agricultural use of treated wastewater, and on cleaning the Ganga and other rivers. The sides stressed the importance of defence collaboration and said future deals should include the transfer of Israeli technology, in line with PM Modi's Make In India initiative. Three separate memorandums of understanding or MoUs were signed for space research.
"This is a great day," Israeli Prime Minister Benjamin Netanyahu said during a working lunch in Jerusalem, according to comments released by his office. "I have a feeling that today India and Israel are changing our world."
Mr Netanyahu accepted PM Modi's invitation to make a reciprocal visit to India, his office said.
Infinite market
The announcements follow a flurry of recent tie-ups. Indian Angel Network, the country's largest angel investor group, said last week it was starting operations in Israel, and India's biggest marketplace for start-up funding, LetsVenture, agreed last week to work with Israeli equity crowdfunding platform OurCrowd.
Wipro Limited entered a partnership with Tel Aviv University to research emerging technologies, and Israel Aerospace Industries Limited today announced one joint venture with Wipro Infrastructure Engineering and expanded another with Kalyani Group.
Trade between the countries has grown from $200 million in 1992, when they established diplomatic ties, to nearly $4.2 billion last year, according to figures from Israel's Economy Ministry. Still, if defence items and diamonds are excluded, Israeli exports to India have fallen in recent years.
The I4F fund could help arrest that trend. Each government will put $4 million a year for five years into the fund, which aims to encourage Indians to invest in Israel's technology ecosystem and spur large Indian companies to open development centres there.
"The fund is important," said Avi Luvton, Israel Innovation Authority's Senior Director for Asia Pacific. "It creates a tool through which connections are made."
India is one of the world's largest arms importers and is the biggest buyer of Israeli defence products, a relationship that Benjamin Grossman, Partner and Head of Indian legal practice at Tel Aviv-based APM and Company law firm, said can be expanded to the civilian sector. A recent report by Accenture and Nasscom said cross-border investments between Israel and India could produce as much as $25 billion in sales by 2025.
"It isn't 'copy-paste,' but it can be done," said Mr Grossman, who previously worked in Israel's defence sector. "India is an almost infinite market for Israel."
Indian evolution
Long a source of software programming talent, India's technology industry is evolving beyond outsourcing as start-ups spring up to compete in ride-sharing, e-commerce, education and health. An alliance with Israel offers India a chance to learn from a country that has built a world-renowned innovation industry from the ground up.
Deepak Bagla, Chief Executive Officer of Invest India, the national investment promotion and facilitation agency, was in Israel last month to see what lessons from "Start-Up Nation" could strengthen India's innovation infrastructure.
"We were impressed by how closely linked the entire ecosystem is," Mr Bagla said, noting a network that enables ease of access across a start-up's entire lifecycle, and government support through various financing programmes.
Beta site
A 2016 report by Nasscom-Zinnov found India lags in the number of incubators and accelerators, the time it takes to set up a new business, and on corporate tax rates.
"We can help one another," Mr Luvton said. "It's a giant step forward."
The Israel-US Binational Industrial Research and Development Fund, the model for I4F, has invested in almost 1,000 projects since 1977. Its products have generated $10 billion in indirect and direct revenue for the two countries.
Israel can help India write a playbook for innovation, said Shanti Mohan, LetsVenture's Chief Executive Officer. At the same time, India can serve as a beta site for Israeli technologies looking to scale up, especially in the agricultural and defence sectors, she said.
Indian investments in Israeli technologies are likely to grow. Amitra Farmahan, Country Business Head for wealth management company Reliance Private Client, said she has seen "extremely good response" since they started working with OurCrowd last month.
["Source-ndtv"]