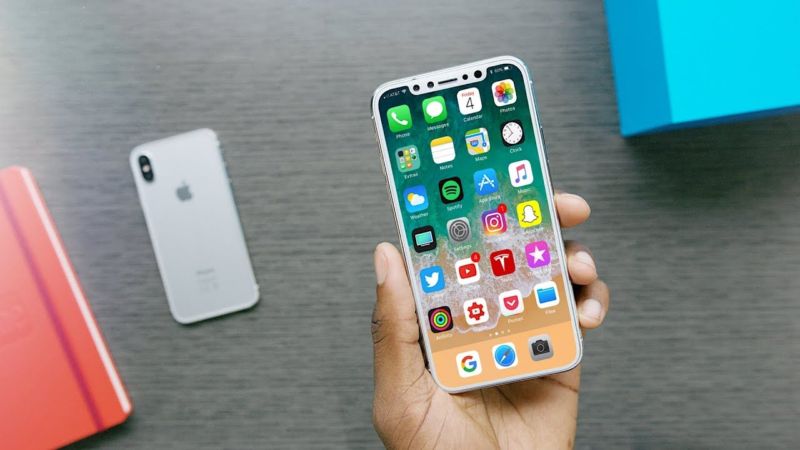 Apple's latest and greatest iPhone is called the iPhone X, according to information pulled from a leaked "Gold Master" of iOS 11, the operating system said to power the new phone.
The same software leak also reveals the existence of the iPhone 8 and iPhone 8 Plus, which are based on a similar design to the existing iPhone 7 and 7 Plus. According to 9to5Mac, which was one of two blogs able to download iOS 11 before it was pulled from Apple's servers, the iPhone 8 and 8 Plus feature a faster processor, wireless charging, and a new glass back panel.
Unlike the iPhone 8, the iPhone X features an all-new design with an edge-to-edge 5.8-inch OLED display that removes the chunky bezels and home button. The design—which was originally shown in a separate software leak earlier this year—is a dramatic departure from iPhones to date, which have largely kept the same front-facing aesthetic since the launch of the original in 2007. By shrinking the bezels, much like Samsung did with the Galaxy S8, Apple can cram a larger display into a smaller body, making the device more comfortable to use with one hand.
In addition to confirmation on the iPhone X name, the iOS 11 GM also revealed other key specifications and features. Code inside the software suggests the iPhone X is powered by a new A11 fusion SoC, which features a six-core processor. Four are so-called "Mistral" high-performance cores, while the other two are low-power "Monsson" cores. By comparison, the A10 SoC that powers the iPhone 7 and iPhone 7 Plus features two high-performance cores and two low-power cores. The iPhone X and iPhone 8 Plus sport 3GB of RAM, while the iPhone 8 contains just two.