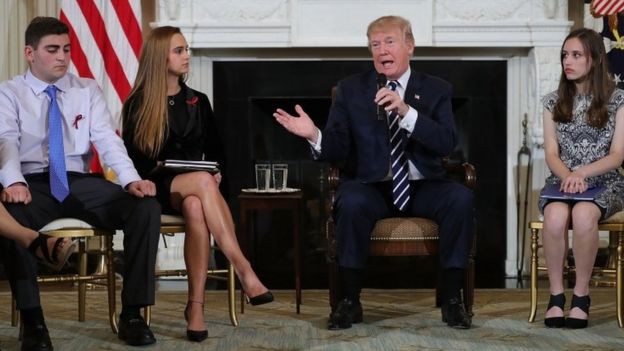 Trump: We should arm teachers
It's just over a week since 17 people were shot dead at Marjory Stoneman Douglas High School in Florida – one of many attacks on US schools over the past few years. How can such bloodshed be stopped? Campaigners have long argued for stronger gun controls. In a meeting at the White House, Donald Trump promised to improve background checks on firearms owners. But he put forward another idea: armed teachers.
"If you had a teacher who was adept at firearms," the president said, "they could very well end the attack very quickly." This would also serve as a deterrent, argued Mr Trump, who described armed attackers as "cowards".
But Mark Barden, whose son Daniel was killed in the 2012 shooting at Sandy Hook Elementary School in Connecticut, said teachers should not be given "the awesome responsibility of lethal force to take a life". He added: "Nobody wants to see a shoot-out in a school." The BBC's Joel Gunter looks at the feasibility of teachers carrying guns
Meanwhile, some people in Florida say they are giving up their weapons following last week's attack. And, here's a look at America's gun culture in 10 charts.
May heads to Chequers for Brexit talks
Theresa May and her senior cabinet colleagues are meeting to work out a deal on the government's approach to Brexit. The get-together at Chequers, the prime minister's country residence, comes after ministers have been at odds over how closely the EU and UK should align after exit day in March 2019. So, what can be achieved? Read BBC political editor Laura Kuenssberg's take.
Anti-depressants work, suggests major study
More than 60 million prescriptions for anti-depressants were given out in England in 2016. But a debate has long raged within the medical profession as to how effective they are at reducing the symptoms of acute depression. A report, published in the Lancet, suggests they do work. Patients who take anti-depressants fare significantly better than those given dummy pills, it says – but some drugs are better than others.

Get news from the BBC in your inbox, each weekday morning

Stormzy has night to remember at Brits
Grime superstar Stormzy had a great night at the Brit Awards, taking the prizes for best British male and best British album. He used a freestyle between songs at the end of the show to criticise the prime minister's handling of the Grenfell Tower fire. "Yo, Theresa May, where's that money for Grenfell?" he rapped. "What, you thought we just forgot about Grenfell?" In other awards, singer-songwriter Dua Lipa was named best British female artist and the Gorillaz were best group. It was comedian Jack Whitehall's first time as Brits host – here are his best one-liners.And take a look at our selection of the best pictures from the night.
Six things Billy Graham believed
"Christianity is not a white man's religion and don't let anyone tell you it's white or black," Graham told an audience in South Africa in 1973. "Christ belongs to all people." He was also a close friend of Martin Luther King Jr, and once paid his bail when King was arrested at a demonstration in 1960. Critics, however, argue that Graham did not push for legislative action, but for voluntary change, and that his support of Southern Baptist ministers could be interpreted as an endorsement of segregation.
Read the full article
What the papers say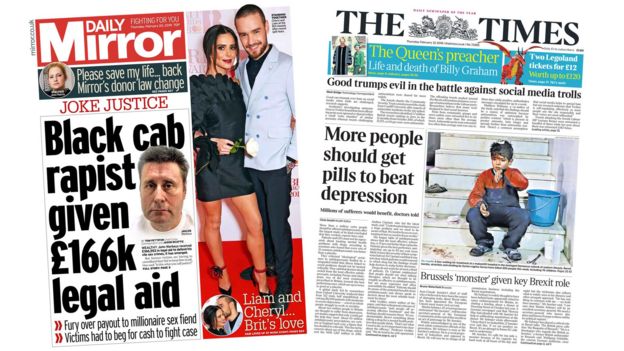 Metro and the i lead on the legal victory of two of serial sex attacker John Worboys's victims in a case which means victims of serious crime may now be able to hold police liable for failures in investigations. Meanwhile, the Times focuses on the research suggesting that anti-depressants do work. "Pop more happy pills" is the Sun's headline. And the Daily Star warns of an "Arctic blast" hitting the UK.
Daily digest
London stabbings Stop using knives, begs mother who lost two sons
Lecturers' walkout Universities braced for 14 days of strikes over pensions
'Most exciting day' US radio presenter gives birth on air
Katie's story Broken dreams of GB Olympic snowboarding hopeful
If you see one thing today

Farming the old-fashioned way
If you listen to one thing today

How will Brexit affect Gibraltar?
If you read one thing today

Why my family had to disappear
Lookahead
11:00 The Prince of Wales and the Duchess of Cornwall present the Queen's Anniversary Prizes for higher and further education, in a ceremony at Buckingham Palace.
12:05 The president of the European Commission, Jean-Claude Juncker, gives a speech in Brussels titled "Europe: Back on track".
On this day
1997 Scientists in Scotland announce the birth of the world's first successfully cloned mammal, Dolly the sheep.
source:-bbc