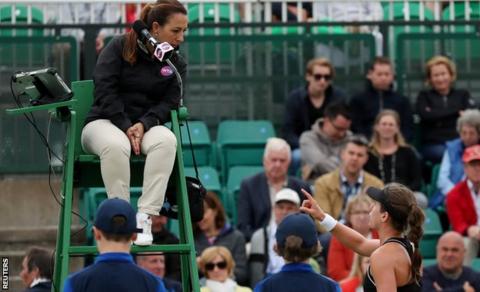 Fingers jabbing towards umpires, angry words and racquet smashing are familiar sights on the tennis court.
On Sunday, Britain's Johanna Konta was the latest player to vent her fury over a line call, shouting at an umpire while playing in the final of the Nature Valley Open in Nottingham: "It's an absolute joke. You're making decisions that affect our lives. Do you fully understand that?"
The computer technology exists to coolly, calmly and robotically decide whether a ball was in or out on every line call – removing the need for human line judges on court – but then, where would be the fun in introducing that?
"I prefer to have them there so I can yell at them," joked Wimbledon champion Garbine Muguruza when asked if it was time to scrap line judges in favour of electronic line calls with an automated voice.
"Nah, I don't yell but for sure it would be awkward, you'd miss the people that have the eyes to see it. It would be scary, I'm not a technology person, I don't have a computer, I don't like all these things."
Line judges were replaced by Hawk-Eye technology at the Next Gen Finals in Milan last November, meaning that for the first time at an ATP event the umpire was the only official on court.
Each computer line call was called out by the technology and was final. Players were not able to challenge calls as they do at most tournaments, because the need to do so via Hawk-Eye video replays – where they are allowed three unsuccessful challenges in a set – was deemed redundant.
ATP chief Chris Kermode liked what he saw in the experiment, saying it had sped up play as players heard the call and just got on with it.
But maybe players do not just want to do that – some prefer to make more of an impression. Quite literally in the case of former world number one Karolina Pliskova, who bashed a hole in an umpire's chair with her racquet frame at the end of a match in Rome last month.
The Czech had argued with officials after having a smash called out, when serving at 30-30 and five games all in the final set against Greece's Maria Sakkari.
TV replays appeared to show her shot had landed in but reviews on clay rely on physical marks and none were found so Sakkari was awarded the point and went on to win the match.
Pliskova received a four-figure fine for her actions, but would still not have wanted a fully electronic system.
"It should be like it is as it is still a sport and I would not change this," she told BBC Sport in Birmingham, where she, Muguruza and Konta are part of a strong field playing at the Nature Valley Classic this week as part of their Wimbledon preparations.
"The linesmen do mistakes but you have the challenge so you can challenge the ball if you were not sure if it was out or not. To have everything without people would be a different game.
"I think everybody has problems with referees, with some calls, and that's why we have the challenge. Mistakes are just part of the game so I would not change it."
source:-.bbc.