Donald Trump and Vladimir Putin: it's complicated. We know, we've been trying to follow it all as well.
All the investigations into allegations of Russian interference in the 2016 US presidential election have put a focus on the relationship between the US and Russian leaders.
But there's a lot to take in, so we've decided to pull together the key elements that help explain this story – or a good part of it, at least.
One video to watch
There are number of different investigations under way into how the Russians interfered, if at all, in the election that Mr Trump won, and whether the Trump campaign played any part in it. The most significant is the independent special counsel led by former FBI chief Robert Mueller.
Last year, the BBC's Rajini Vaidyanathan took a look at what those investigations are about.
The first charges against Russian nationals were laid down in February 2018. They're alleged to have:
Posted political messages on social media accounts that impersonated real US citizens
Spent thousands of dollars a month buying political advertising
Organised and promoted political rallies within the United States
Promoted information that disparaged Mr Trump's rival for the presidency, Hillary Clinton
Created themed groups on social media on hot-button issues, particularly on Facebook and Instagram
Financed the building of a cage large enough to hold an actress portraying Mrs Clinton in a prison uniform
One quote that matters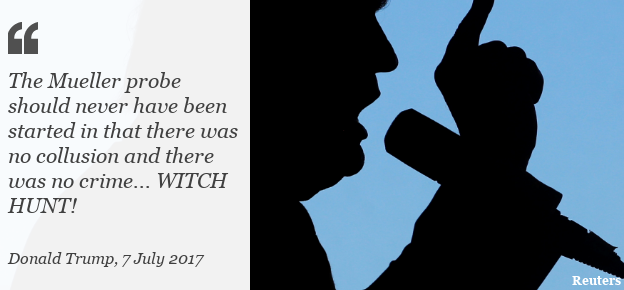 Mr Trump has repeatedly denied there was any collaboration between his camp and Russia to try to help him win.
So far, no evidence has been presented by the special counsel's office to suggest this was the case (Mr Trump's former national security adviser Michael Flynn was charged with lying to the FBI; former Trump campaign chief Paul Manafort with tax fraud, money laundering and illegal lobbying).
That doesn't mean there won't be any collusion charges though – despite a Republican investigation that concluded no collusion took place. The truth is the special counsel investigation is ongoing and there's no sense yet of when it might end, or how.
One picture that tells a story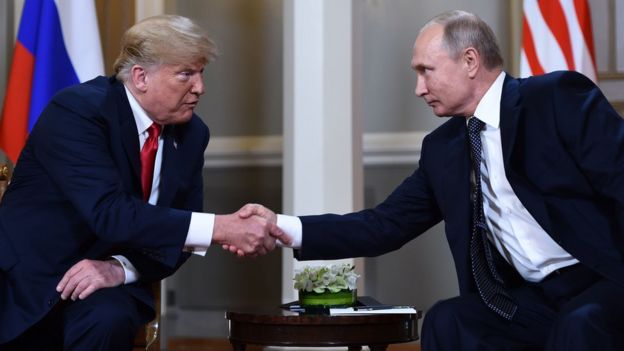 This photo was taken in Helsinki on 16 July at the first summit between the two presidents (they'd met before, "two and a half times", according to Mr Trump).
The meeting came just three days after 12 Russian intelligence agents were indicted by Mr Mueller's team, who accused them of hacking into the accounts of Mrs Clinton's campaign.
At the presidents' joint press conference, Mr Trump said he did not see "any reason" to question Mr Putin's denial his agents were involved.
Even senior Republicans condemned Mr Trump's comments, and former CIA chief John Brennan said Mr Trump's denial of Russian links "was nothing short of treasonous".
One piece of context
Mr Trump's eagerness to reach out to Mr Putin isn't unprecedented: since taking office in January 2017, he has shown admiration for a number of strongman leaders, from the Philippines' Rodrigo Duterte to North Korea's Kim Jong-un.
During Mr Trump's presidential campaign, he said he would get along with Mr Putin, who he said had "great control over his country". The US president has made similar comments about Mr Kim, with whom he held a historic summit in June 2018.
Mr Trump has also been able to frame his closeness to Mr Putin as an improvement on his predecessor Barack Obama. "Our relationship with Russia has NEVER been worse", he tweeted before meeting Mr Putin in Finland. "That changed, after about four hours ago," he said afterwards.
One person behind the story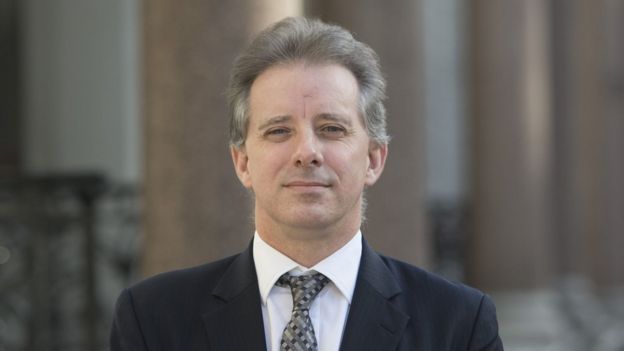 This is Christopher Steele, the author of what's become known as the Steele Dossier.
Mr Steele, a former intelligence agent with MI6, compiled a dossier on Mr Trump's links to Russia, after initially being hired by Republicans who wanted to block Mr Trump from becoming the party's presidential candidate.
Democrats then took over funding of the investigation after he was nominated. Mr Steele became so worried by some of the things he concluded that he took those concerns to the FBI.
His dossier contained an unsubstantiated claim that Mr Trump was once filmed with prostitutes at a hotel in the Russian capital, claims that Mr Trump and Russia deny.
But the BBC understands that US officials have been able to verify one key claim Mr Steele made, that a Russian diplomat in Washington was in fact a spy.
One more thing to read
If you feel you'd like to learn a bit more and have roughly five minutes free, we've put together a comprehensive explainer on Mr Trump and Russia that hopefully answers any questions you may have.
Source:-.bbc