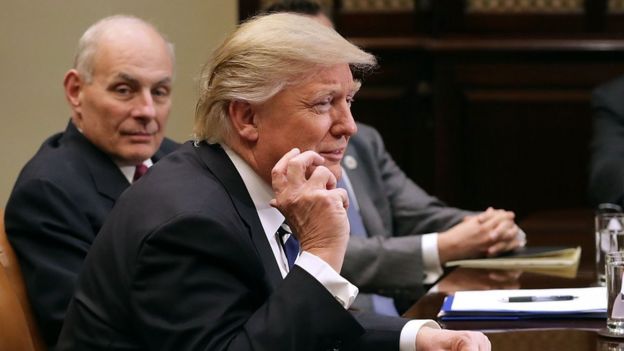 Donald Trump has denied changing his views on a border wall after his top aide reportedly said the president was "uninformed" when he made the promise.
White House chief of staff John Kelly told Fox News the president's opinions had evolved since his signature campaign pledge on the US-Mexico wall.
"Campaigning is very different from governing," Mr Kelly said on Wednesday.
Hours later, the president tweeted to say Mexico would still "directly or indirectly" pay for the wall.
Have the wall plans changed?
US media report that the White House chief of staff told members of the Congressional Hispanic Caucus on Wednesday that the US would never construct a wall along its entire southern border.
Mr Kelly also reportedly said Mexico would never pay for the structure, as Mr Trump has repeatedly vowed.
But speaking to Fox News later the retired general insisted the president was committed to building 700 miles (1,100km) of additional wall along the nearly 2,000-mile border.
Last year Mr Trump said his wall would cover 1,000 miles with natural obstacles taking care of the rest.
When Fox News asked Mr Kelly if he had called the president "uninformed", he did not deny it.
Both the president and his chief of staff cited the estimated cost as $20bn (£14bn); Mr Trump had originally put the figure at $10-$12bn.
Mr Kelly said they were now looking at alternative ways to raise funds, including via possible visa fees or renegotiating the Nafta trade deal between the US, Canada and Mexico.
In Thursday morning's tweet, President Trump insisted Mexico would still pick up the costs, possibly "through longer term reimbursement".
source:-bbc