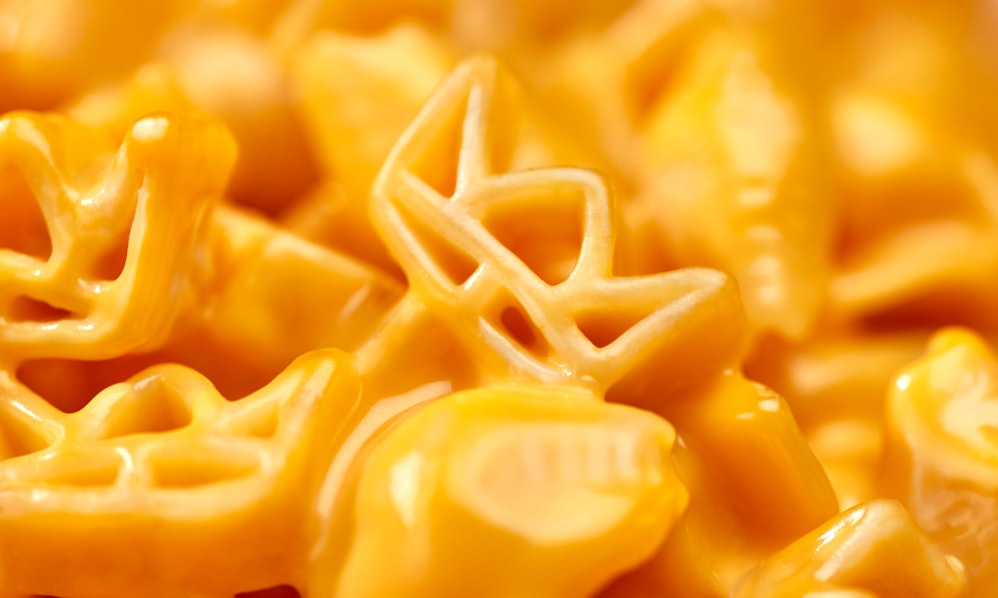 Everyone has been talking about the upcoming royal wedding between Meghan Markle and Prince Harry for months. Well, the big day is finally about to happen in less than a week on Saturday, May 19. There are plenty of ways to celebrate the occasion as it grows near, and one company has released a very tasty way for you to get in on all the royal action. Velveeta's "Crowns & Cheese" mac and cheese is here just in time for you to enjoy in honor of the royal wedding.
When you think of royal wedding fare, Velveeta Shells & Cheese might not be the first dish that pops into your mind. In a press release on May 15, the brand announced its new Velveeta Crowns & Cheese to make a bowl of mac and cheese just a touch more regal. Velveeta might even argue that digging into a bowl of the new cheesy, crown-shaped pasta found in Velveeta's Crowns & Cheese is even better than marrying into the British Royal Family.You may have been banking on Prince Harry to be your ticket to afternoon tea with Queen Elizabeth, but now that he's off the market, you can turn to Velveeta Crowns & Cheese to get your royal fix.
You're going to love the taste of the Velveeta Crowns & Cheese, too. It's the same cheesy Velveeta Shells & Cheese with the addition of crown-shaped pasta. Since the pasta is fit for a queen, the packaging got an upgrade, too. The Velveeta Crowns & Cheese crown-shaped pasta is nestled in a "deluxe gold foil box" alongside an OG package of Shells & Cheese, and you can enjoy every bite with the gold-plated spoon that is fit for royalty.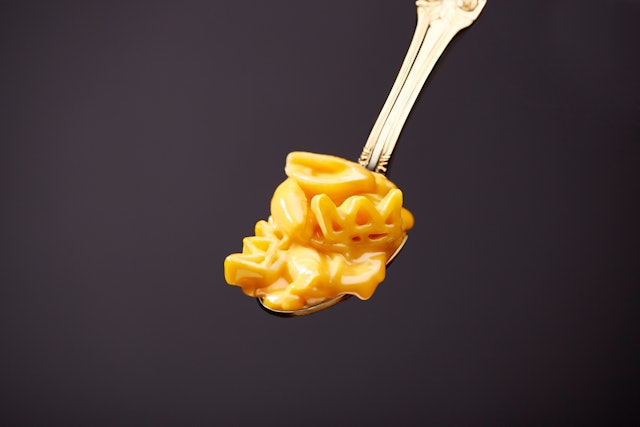 Don't look for this special limited-edition box on the grocery store shelves, because you can only win it by entering online from May 15 through May 16, 2018. To win a box of the Velveeta Crowns & Cheese, all you need to do is post about it on Twitter using the hashtags #RoyallyTreatYourself and #VelveetaContest, or you can fill out an online form. According to the contest rules, the first 800 lucky participants will be chosen to receive the delicious and royally upgraded Velveeta Crowns & Cheese.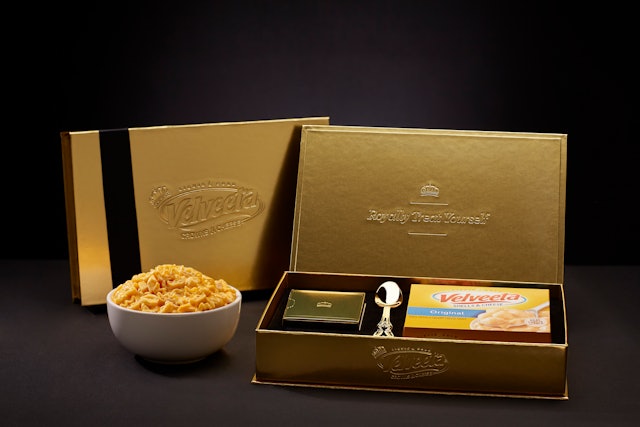 So, you won't have to prove you've passed princess lessons or figure out which fork is the salad fork to get your hands on these cheese-covered pasta crowns. I don't know about you, but sending out a tweet to win Velveeta Crowns & Cheese sounds like my kind of initiation into the royal family.
Of course, you can always get your hands on the original Velveeta Shells & Cheese if you don't win the royal meal, but I would definitely recommend entering the Velveeta Crowns & Cheese contest for the chance to add a regal touch to your next at-home dinner.
If you win, you probably won't get the Velveeta Crowns & Cheese in time to indulge on the big day, but that doesn't mean you can't tune in to watch the royal nuptials on Saturday, May 19. If you just have to have some royally-themed treats to celebrate the day (I totally get it), you can always look into grabbing some ice cream from Brooklyn-based Ample Hills Creamery that was made specifically for the royal wedding. Ample Hills created "God Save the Cream," and it has flavors reminiscent of the cake Markle and Prince Harry will serve their guests. The lucky wedding guests will enjoy a lemon elderflower sponge cake covered in buttercream baked by Claire Ptak, owner of London-based Violet Cakes.
OK, that sounds delicious, but don't fret over not being able to indulge in some royal wedding cake. Remember, you could be the lucky winner of a box of Velveeta's Crowns & Cheese, so hurry up and enter for your chance to add a royal touch to your next meal.
Source:_elitedaily