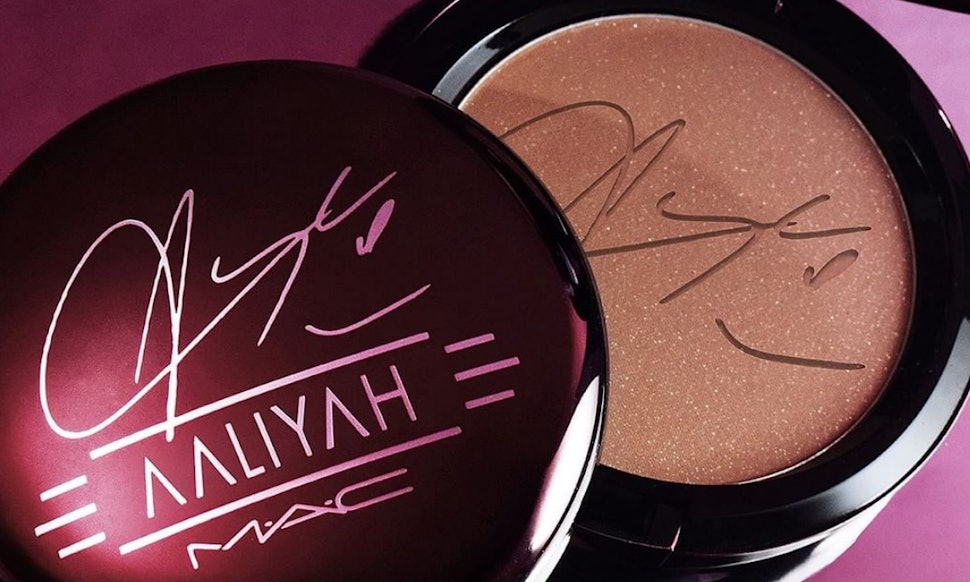 The fans have spoken. Their requests were heard and MAC answered the call in all the right ways. The MAC x Aaliyah Haughton makeup collection is on deck and it's utterly enchanting. The brand just shared a fresh slate of images of the products and colors — and there are a few surprises.
If you recall, the Aaliyah faithful rallied and started a petition for the late singer to get her own MAC range. The fans essentially asked MAC to honor her with makeup. It made sense since Aliyah was a straight up stunner who tragically died at the tender age of 22 in a plane crash August of 2001. It has turned into a beautiful tribute to the gorgeous singer who would no doubt be an icon and influencer of fashion and beauty deep into her career had she lived.
The range is slated to arrived online on June 20 and in stores on Jun 21. Ultimately, MAC x Aaliyah is a terrific way to officially start the summer and to upgrade your makeup wardrobe.
Aaliyah was known for her flawless skin, smoky eyes, and nude, glossed lips. So if you were expecting the collection to feature only that assortment of items, you are in for a surprise. MAC surely mixed it up.
There's a gorgeous bronzer for all skin tones and an Old Hollywood red lipstick along with a plummy gloss.
What we have seen thus far is not entirely expected but it is gorgeous nonetheless. It also reminded us that the late singer had so many different and sexy looks before we lost her far too soon and far too young.
The packaging breaks with the usual matte black cases for standard MAC products. Instead, the Aaliyah collection is housed in shiny, burgundy tubes with her signature. They are chic and classic — just like the woman who inspired the collection.MAC did not share the name of this orange-toned red but it's a keeper. Imagine how good it will look with a black cat eye flick and highlighted skin!This sultry purple gloss was named after one of Aaliyah's many hits. But which? Only time will tell. Maybe "Are You That Somebody" or "More Than a Woman?" Those are decent guesses! But is the caption hiding the name of the gloss in plain sight? Is it "Throw Your Hands Up," which is an Aaliyah jam?Ooh! That bronzer is so beachy, so brown and peachy, and so shimmery. It will give you that safely sun-kissed glow. The brand was certainly playing coy about the names. That's fine. We can wait. We will just continue to gawk at the shades, the packaging, and some classic images of Aaliyah while we wait for the moniker reveals.You can create so many smoky eyes with this palette, which MAC also previously revealed.This is not the first time MAC has listened to its fans and the fans of stars we that have left us too soon. The MAC x Selena makeup collection dropped last year after fans lobbied for it. It lived in purple packaging. It sold out on the quick and was a runaway hit. It proved that the demand was there and MAC met it with supply.Aaliyah would be 39 today. In case you were not familiar with the star during her heyday or were too young to remember her, here's a throwback to that natural and magnetic beauty. Her posthumous MAC range captures her gorgeous essence and beyond.
MAC looks to have another winner on its hands with its Aaliyah range.
source:-bustle