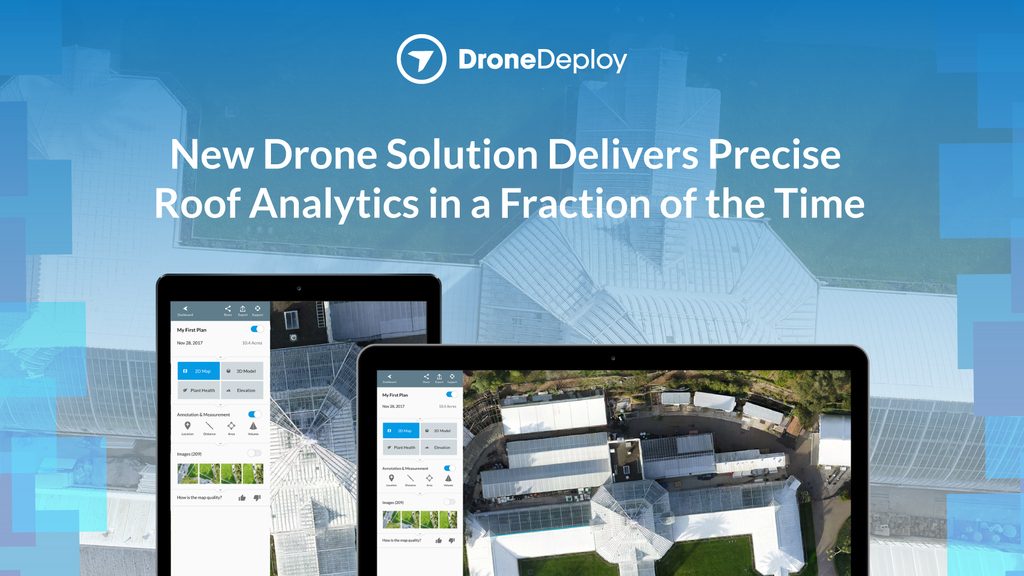 US: DroneDeploy has announced the launch of a drone solution for the roofing industry that automatically generates accurate and comprehensive roof analytics. For the first time, roofing, solar, and insurance companies can easily and affordably inspect and measure roofs with industry-leading accuracy.
DroneDeploy's roofing solution integrates an autonomous 3D Flight App with a roof-specific flight mode and an application that generates PDF roof reports and DXF files. The 100% cloud-based mapping and roof inspection platform allows companies to capture information from multiple houses, and start generating insights immediately. In 10 minutes the DroneDeploy 3D Flight App collects high-resolution aerial roof imagery of structural features. The Roof Report delivers a PDF containing square footage, slope, and other roof features along with DXF files, a file format used for further design, within 4 hours.
"Generating accurate roof reports from aerial data requires state-of-the-art computer vision algorithms and machine learning techniques in the cloud and on mobile devices. DroneDeploy processes millions of images each week to power these algorithms," noted Nicholas Pilkington, CTO at DroneDeploy. "We're excited to utilize this volume of data and our expertise in photogrammetry to deliver best-in-class solutions to the toughest problems in the industry."
DroneDeploy's rooftop measurements lead the industry with 99.4% relative accuracy (or 1-inch absolute accuracy with GCPs). These results are driven by cutting-edge computer vision algorithms that generate dimensionally-accurate 3D models as well as DJI's vibration-free drone gimbal that captures oblique images.
"Our customers — from leading solar, electric, and real estate enterprises to drone hobbyists who utilize DJI drones in their daily work — are experiencing incredible ROI with DroneDeploy's Roofing solution," said Jan Gasparic, Head of Enterprise Partnerships, DJI. "When paired with our powerful aerial platforms, this new solution helps achieve greater time and costs savings, improved team efficiency, and accurate data collection. It's truly redefining an industry where accuracy and safety are equally important — all with just the click of a button."
Roofing companies can triple the number of estimates and claims their teams can complete in one day, with quicker turnarounds and better information — at no risk to employee safety. This data also enables quick and thorough inspection reports for insurance companies, resulting in faster and more accurate claims processing. With DXF files, solar companies can efficiently size and place solar arrays, optimizing sunlight and kilowatt hours.
["Source-geospatialworld"]