–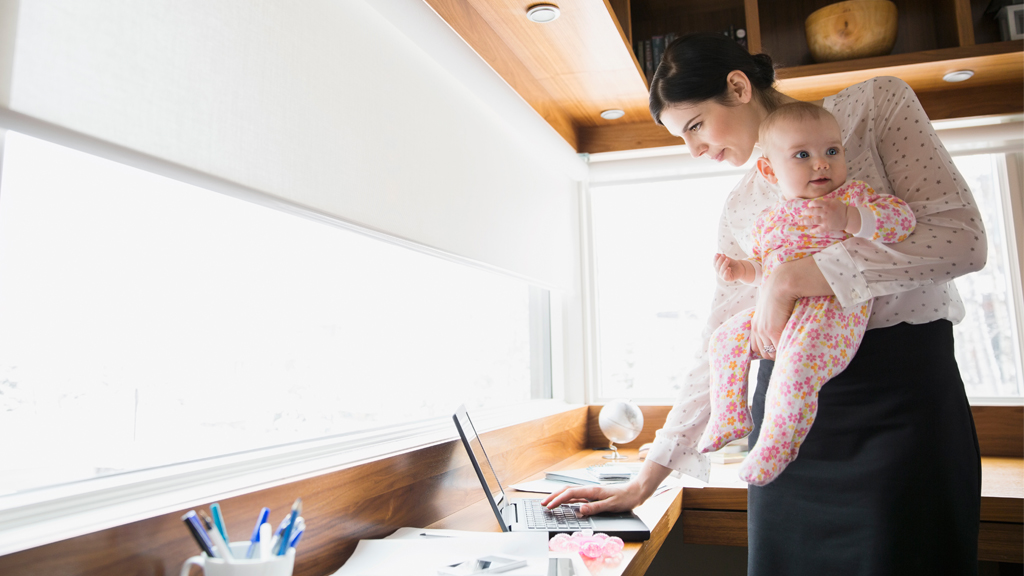 If you have 'worked' from home with young children, you'll understand the quotations.
Often not a great deal of work gets done.
It's difficult to maintain your mental focus when you're constantly being interrupted by small humans piping up about Tiny Teddies and toilet time.
But for many mums despite the struggle, spending those early years at home alongside your children and still working (a little or a lot) is a good option.
As a writer, it was an easy decision for me to work from home. I only need a screen, some ideas and a little peace.
So I pushed on, conducting interviews while children cried in the background and typing articles while breastfeeding.
And I'm really glad I did.
It kept a smidge of a career chugging along and although now I've headed back into the big smoke, I still work two days in my home office while the kids are at school.
One problem I discovered working from home is – there's no IT number to call when something hi-tech and impossible to grasp happens. And there's no one to help you set up clouds and drop boxes and all those other things.
The first step is to have your devices and software set-up properly to start with (ask an expert!). Then ensure it's super organised. I've done it and you should too. Here's how to declutter your office technologically, with tech expert Trevor Long from Officeworks …
1. Folder planning
Get your desktop icons organised and colour-code them. It will give you clarity and ensure your hard work isn't lost.
Think of your computer folders as a family tree – start at the top with the client or project and then create additional separations within the main folder to separate in categories, such as 'finance and admin' and file your documents accordingly
2. Go wireless
Random cords and wires can create the illusion of clutter. The main culprits are your computer desktops, laptop chargers, keyboards and the computer mouse. Though desktops will need to be plugged into a power outlet, there are numerous Bluetooth enabled wireless keyboards and mouses which will streamline your workspace. Upgrade your keyboard and mouse with Wireless Bluetooth enabled devices to create a cord-free space.  My top pick is the Logitech MK235 Wireless Keyboard and Mouse Combo.
When it comes to your desktop and monitor cords, firstly untangle your cords, then apply cord straps to contain your cables in a tight and organised bundle – colourful straps such as these Wrapt Up Hook and Loop Cord Straps will help you organise numerous cables in the workplace.
3. Shred it
If paperwork comes and goes in your office, consider purchasing a shredder to sit under the desk or in the office to manage any unnecessary paper that lands on your desk.  Shred it, recycle it and manage the clutter as you go – simple and effective.
4. Back Up
Your digital data is often your most important tool so ensure you back up your information regularly. Some Portable Hard Drives have pre-installed 'Back Up' software to take the leg work out of ensuring you're protected. Don't leave your information at risk, try the Seagate 1TB Backup Plus Slim Portable Hard Drive.
5. Reach for the skies
The 'cloud' is a word often used, but many are unsure about what it is.
In its simplest form, it's a storage system that runs over the internet rather than on a computer's hard drive.
It provides the same levels of security as a hard drive, but the big advantages are reliability and accessibility — you can access files on the go from any device providing there is internet connection.
Regardless of the age of your computer, Cloud Storage is strongly recommended as an off-site backup. It instils confidence that if there's a computer failure you have a back-up copy of all your important documents.
Microsoft OneDrive is a great Cloud Storage option. It comes standard with 5GB of free Cloud storage as part of the Microsoft Office Home and Business package.
6. Protect your tech
Keep your firewall turned on. A firewall is an internal security system that protects your device from hackers. Most operating systems incorporate firewall protection, though the key is ensuring it is switched on and stays on.
Install and/or update your antivirus software. This is different to firewalls. Internet Security software detects and protects against any obscure or dangerous software programs. Norton Antivirus has a range available – remember to protect all your connected devices such as phones and tablets as well as computers.
Be careful with what you download. It goes without saying, but it's a common mistake for people to open all attachments, links and files. This can be dangerous and lead to a lethal virus and a system shut down. If you don't know the person, don't open the accompanying document.
Remember to investigate product insurance to protect your new portable device for 12 months from purchase from accidental damage, loss or theft.
[Source:-honey]