At least 28 people have been killed and scores injured after a Taliban car bomb exploded in a crowded area of Kabul near ministries and government offices, and a gun battle ensued between attackers and security forces.
The heavily laden car exploded shortly before 9am local time outside the office of a security detail responsible for protecting Afghan government VIPs and officials, according to police sources.
The blast ripped through the city, rattling windows several miles away, and was followed by gunfire as attackers took cover in nearby buildings. A Taliban spokesman claimed responsibility for the attack, which came a week after the insurgents launched their annual spring offensive.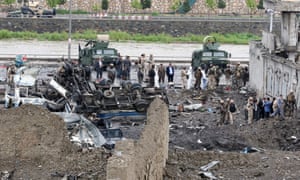 Obaidullah Tarakhail, a police commander who was at the scene when the attack began, told the Associated Press: "This was one of the most powerful explosions I have ever heard in my life." Tarakhail said he could not see or hear anything for 20 minutes after the initial explosion. "All around was dark and covered with thick smoke and dust," he said.
Kabul's police chief, Abdul Rahman Rahimi, told reporters at the scene that 28 people had been killed. He said the attack left 183 injured, but a spokesman for the public health ministry put that figure at 327. The casualty figures are expected to rise.
Emergency, an Italian-run hospital for war wounded in Kabul, said it had received 22 casualties, most of them members of the security forces, and most lightly injured. Luca Radaelli, Emergency's medical coordinator, said numbers could rise because it had been difficult to evacuate victims while the fighting continued.
Sediq Sediqqi, an Afghan interior ministry spokesman, said the suicide bombing was followed by an assault by armed militants. "One armed terrorist was shot and killed by security forces and the gun battle is still under way with an unknown number of other terrorists," he said. A spokesman for the Kabul police chief later said the gun battle in the compound had ended.
President Ashraf Ghani said in a statement: "[We] condemn in the strongest terms the terrorist attack in Puli Mahmood Khan neighbourhood of Kabul, as a result of which many of our countrymen were martyred and wounded. Such cowardly terrorist attacks will not weaken the will and determination of Afghan security forces to fight against terrorism."
The Afghan government, backed by its international allies, has for months tried to convince the insurgents to restart peace talks, but so far to no avail.
While the spring fighting season normally heralds intensified attacks, winter was unusually violent, with sustained Taliban offensives around the country and several attacks on the capital.
In January, the Taliban attacked a restaurant in Kabul frequented by foreigners and affluent Afghans, killing a guard and a 12-year-old boy. Later that month, the militant group killed seven employees of TOLO TV in an attack on one of the media group's buses.
On Sunday, the UN released a report documenting a slight increase in civilian casualties in the first three months of 2016, compared with the same period last year.
The report also showed that while the Taliban have scaled down their use of improvised explosive devices and targeted killings, the militants are increasingly using complex and suicide attacks in populated areas.
[Source:- Gurdian]