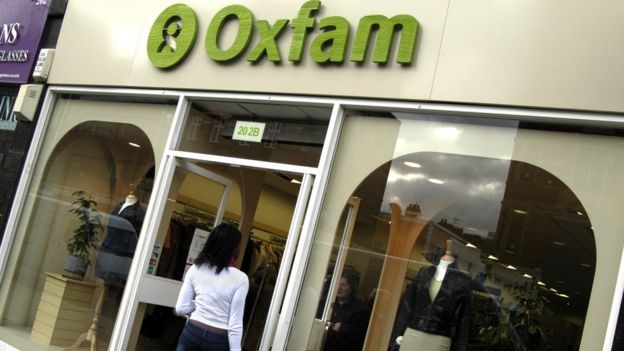 Oxfam Haiti scandal: Suspects 'physically threatened' witnesses
Oxfam has released its 2011 report into the alleged sexual misconduct by some of its workers in Haiti. The document, put out following criticism of the charity's handling of the scandal, said three of the men accused had physically threatened witnesses during an investigation. It also warned that "more needed" to be done to prevent "problem staff" working for other charities.
Despite this, several men linked to the alleged abuse later took up roles elsewhere. Seven people left Oxfam as a result of their behaviour in Haiti, according to the report.
Oxfam, whose reputation has been damaged by the scandal, will later apologise to Haiti's government for "mistakes" made. The BBC's Reality Check team looks at how much UK government money goes to the charity.
May launches university funding review
Theresa May will launch a year-long review into the funding of higher education in England later, saying there are "serious concerns" over the cost of courses.Fees are currently frozen at £9,250 a year. The prime minister will say the funding system is leaving students from poorer backgrounds with higher levels of debt, "with many graduates left questioning the return they get for their investment".
The review will look at the level of fees, whether to cut interest rates on loans and the possibility of reintroducing maintenance grants for disadvantaged students. Labour says it would abolish fees and bring back maintenance grants. So, how do fees in England compare with those elsewhere? Take a look at our guide.
Baftas: Who were this year's big winners?
Which film came out on top at the UK cinematic industry's swankiest night of the year? Five words: Three Billboards Outside Ebbing, Missouri. The story of a woman seeking justice for her daughter's murder took five Baftas, including best film, best British film and best actress for Frances McDormand. Gary Oldman was named best actor for his portrayal of Winston Churchill in the World War two epic Darkest Hour.
On a night of few awards surprises, most female Baftas attendees wore black as a mark of their support for the Time's Up and Me Too campaigns against sexual harassment. Here's a list of all the Batfa winners.
I took my wife's name – and then the hassle began
BBC Stories
We knew we didn't want to have different names and we weren't keen to double-barrel. We did very briefly contemplate merging our names – Davies and Tingley – and becoming Dangleys. I never actively told my family and I think they assumed we were double-barrelling our names. After the honeymoon it gradually leaked out.
Read the full article
What the papers say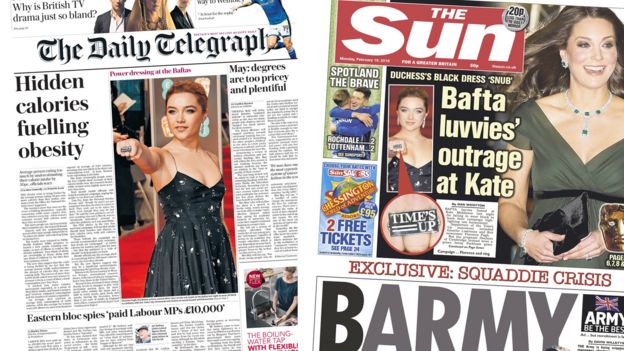 Enjoying your breakfast? The Daily Telegraph starts the week with a morale-boosting report that the average person is consuming 50% more calories than they realise. Meanwhile, the Guardian and the i lead on the government's review of higher education finance in England, the latter reporting that senior Conservatives are set to challenge her proposed changes to the funding system. And the Sun highlights an apparent troop shortage that it says has "crippled" the armed forces.
Daily digest
Florida shooting Students to march on Washington to demand more gun controls
Sir Philip Green MPs to scrutinise pension schemes at Topshop boss's retail empire
'Move your van' Abusive note left on ambulance dealing with 999 call
Peter Rabbit Beatrix Potter's creation to feature on special 50p piece
Source:-BBC