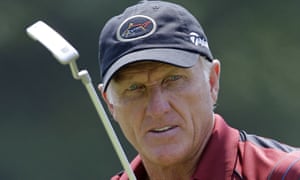 Greg Norman has described setting up the famously tense first conversation between the then newly-elected Donald Trump and the Australian prime minister, Malcolm Turnbull, last January, and insisted the two men now have an "incredible relationship".
Norman, the Australian golfer who has been close friends with Trump for decades, told the ABC's 7.30 program he was contacted by Joe Hockey, Australia's ambassador to the US, who requested a phone number for Trump.
"I don't normally give out cell phone numbers of people in my database, but considering it was for the prime minister to call the president of the United States, I thought that would be the right thing to do," he said.
Turnbull will travel to Washington DC this week to meet Trump and discuss the US-Australia alliance.
It's been a year since Turnbull was left reeling from a contentious first phone callwith the president. According to a leaked transcript of the call, Trump told Turnbull it was "the most unpleasant call all day" after discussing the "horrible" Obama-era agreement to resettle refugees Australia had detained on Nauru and Manus Island.
On Monday night Norman said that, although the relationship "started off a little bit rocky" between the two world leaders, "fortunately it has turned out to be an incredible relationship".
"The little brother and big brother relationship and bond is strong as it has ever been," he said.
Norman said Trump and his team did not initially have a good understanding of the historical importance of the alliance between Australia and the US. "There's a lot of things that you find out once you get into that office," he said.
As for Trump's performance as president, he said "he's better today than what he was three months ago".
Norman, who said said he first started playing golf with Trump in his days as a top pro golfer, said he truly believed the president was very passionate about making the US "a better, stronger place".
"He's going after the bad guys, and going after the bad guys is a daunting task, considering what you find out when you're in there. And by doing that he's rattling the cage around the world.
"Like I said, some people like it, some people don't like it, but at the end of the day, if his number one priority is to make America a safer place, then God bless him, quite honestly."
source:-theguardian