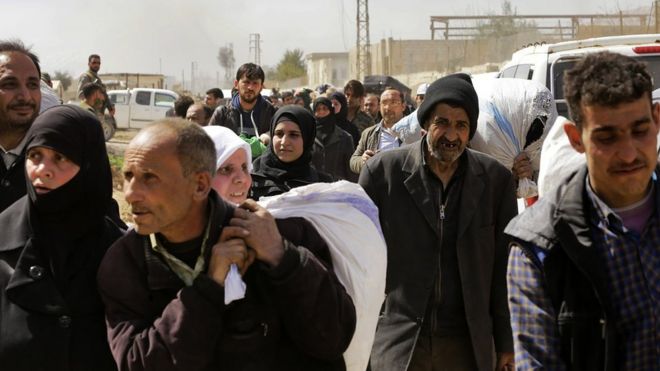 State television showed pictures of men, women and children carrying bags leaving the town of Hamouria, which has come under intense bombardment.
It is the biggest exodus from the enclave since the military stepped up an offensive to retake it last month.
At the same time, 25 lorries carrying food aid entered the town of Douma.
The International Committee of the Red Cross (ICRC) said the aid was just a fraction of what was needed in the Eastern Ghouta, where some 390,000 people are facing severe shortages of food and medical supplies.
Why is there a war in Syria?
Eastern Ghouta devastation seen from space
Who's fighting whom in Syria's Ghouta?
The developments came as Syria's civil war, which ICRC president Peter Maurer said had "extracted an immensely painful human toll", entered its eighth year.
The conflict has left more than 350,000 people dead, 1.5 million others with permanent disabilities, and displaced 11 million both inside Syria and abroad.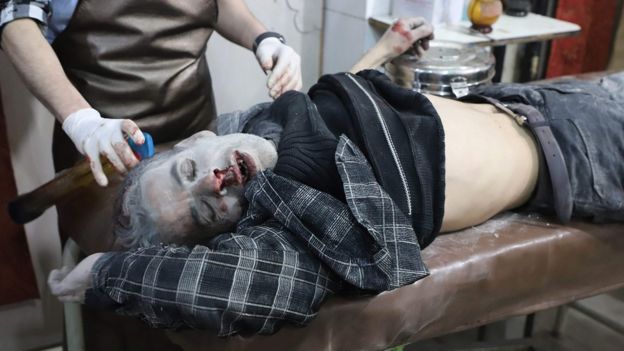 More than 1,100 people have been killed since the government and its allies intensified their bombardment of the Eastern Ghouta on 18 February.
In the past week, dramatic advances by soldiers and militiamen have cut the enclave into three pockets: one in the north around Douma controlled by the rebel group Jaysh al-Islam; a second in the south around Hamouria held by Faylaq al-Rahman; and a third in the west around Harasta controlled by Ahrar al-Sham.
A UN-facilitated agreement between Jaysh al-Islam and the government's key ally Russia saw dozens of sick and wounded people evacuated along with their families from Douma during local "humanitarian pauses" on Tuesday and Wednesday.
But the government's assault on the southern pocket continued unabated.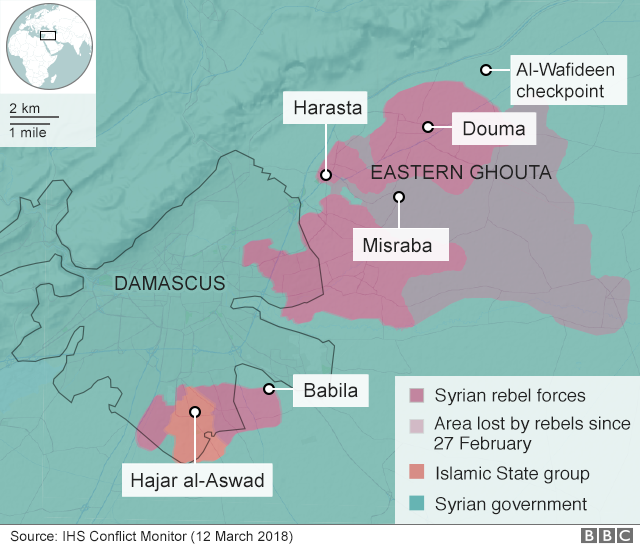 After troops broke through rebel lines outside Hamouria on Wednesday night, the government designated a corridor through which it said civilians could leave.
On Thursday, more than 7,000 people took the opportunity to flee towards a government-held checkpoint in Adra, according to the Syrian Observatory for Human Rights, a UK-based monitoring group.
A Russian military spokesman put the figure at 4,000. But he said he expected no fewer than 13,000 to have left by the end of Thursday.
Hamouria had a population of between 31,000 and 34,000 in January.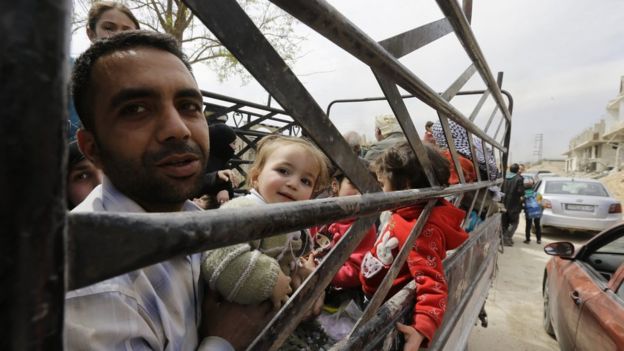 The official Sana news agency alleged that the civilians had been "used as human shields by terrorist organisations" and said they would be taken to makeshift reception centres.
Eastern Ghouta resident Ahmed Khansour told the BBC that Hamouria had been pounded by air and artillery strikes in recent days, trapping people in basements with limited food, water and sanitation.
"[The] last thing we heard from people in Hamouria was an SOS message last night," he said. "They are saying that people… are trying to get out of where they are, but the regime is targeting anybody on the streets. Wounded people are on the streets, waiting for aid, waiting for somebody to help them."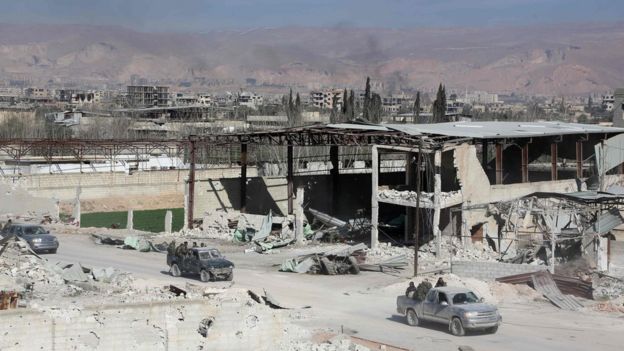 The Syria Civil Defence – whose rescue workers are widely known as the White Helmets – said 13 civilians, including four children and two women, were killed in Hamouria on Wednesday alone as the town was hit by 65 air strikes, 80 barrel bombs and 200 rockets.
The organisation added that one of its volunteers was killed in a "double tap" air strike on the nearby town of Hezzeh on Thursday, which targeted ambulances arriving at the scene of an earlier bombing.
Meanwhile in the government-controlled Old City of Damascus, a civilian was killed and two others wounded by shells fired by rebels based in the Eastern Ghouta, police told the Sana news agency.
source:-BBC