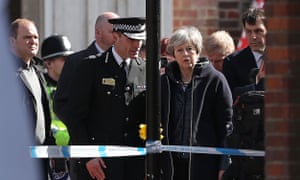 The leaders of Britain, the US, Germany and France have released a joint statement strongly condemning the Salisbury nerve agent attack as "an assault on UK sovereignty" and saying it is highly likely Russia was behind it.
The rare united comment from Theresa May, Donald Trump, Angela Merkel and Emmanuel Macron, released by Downing Street, follows extensive UK efforts to drum up international support for its response to the poisoning of Sergei Skripaland his daughter.
After the statement's release Donald Trump said that Russia appeared to be behind the attack. "It looks like it," he told reporters. "I've spoken with the prime minister and we are in discussions. A very sad situation. It certainly looks like the Russians were behind it. Something that should never, ever happen, and we're taking it very seriously, as I think are many others."
May, speaking on a visit to Salisbury on Thursday, said the statement showed the UK's allies "are standing alongside us" in protest at Russia's behaviour.
The statement said the use of novichok "constitutes the first offensive use of a nerve agent in Europe since the second world war", noting that the four leaders "abhor the attack that took place against Sergei and Yulia Skripal".
"A British police officer who was also exposed in the attack remains seriously ill, and the lives of many innocent British citizens have been threatened," it read. "We express our sympathies to them all, and our admiration for the UK police and emergency services for their courageous response.
"It is an assault on UK sovereignty and any such use by a state party is a clear violation of the chemical weapons convention and a breach of international law.
"It threatens the security of us all. The United Kingdom thoroughly briefed its allies that it was highly likely that Russia was responsible for the attack.
"We share the UK assessment that there is no plausible alternative explanation, and note that Russia's failure to address the legitimate request by the UK government further underlines its responsibility."
The unambiguous tone of the comments about Russia will greatly please British ministers, who have spent the past few days seeking to persuade allies to take this line, notably France, where Macron's spokesman warned the UK on Wednesday against "fantasy politics".
Speaking after visiting businesses in Salisbury and speaking to emergency services, May said the four countries were "vey clear in attributing this act to Russia".
"What is important in the international arena – and we have taken this into Nato, into the United Nations, we've taken it through into the European Union – is that allies are standing alongside us and saying this is part of a pattern of activity that we have seen from Russia in their interference, their disruption that they have perpetrated across a number of countries in Europe," she said.
"This happened in the UK, but it could have happened anywhere and we take a united stance against it."
There was overwhelming support for the UK from its allies, including the US, at a UN security council meeting overnight.
Washington's envoy, Nikki Haley, said: "Let me make one thing clear from the very beginning: the United States stands in absolute solidarity with Great Britain. The United States believes that Russia is responsible for the attack on two people in the United Kingdom using a military-grade nerve agent."
The joint statement calls on Russia to "address all questions related to the attack" and provide full disclosure of the novichok programme to the Organisation for the Prohibition of Chemical Weapons in The Hague.
"Our concerns are also heightened against the background of a pattern of earlier irresponsible Russian behaviour. We call on Russia to live up to its responsibilities as a member of the UN security council to uphold international peace and security," it ends.
On Wednesday, May announced the expulsion of 23 Russian diplomats from the UK and a range of other measures to crack down on "corrupt elites", including new measures to combat spying.
The expulsion was the largest such move since the cold war, and marked a considerable escalation on the expulsion of four diplomats after the murder of Alexander Litvinenko in 2006.Earlier on Thursday, the foreign secretary, Boris Johnson, told BBC News: "There is something in the kind of smug, sarcastic response that we've heard that indicates their fundamental guilt. They want to simultaneously deny it, yet at the same time to glory in it."
He suggested Vladimir Putin had some responsibility for the attack. "There is very little doubt in people's minds that this is a signature act by the Russia state, deliberately using novichok, a nerve agent developed by Russia, to punish a Russian defector as they would see it, and in the runup to Vladimir Putin's election."
The Russian foreign minister, Sergei Lavrov, confirmed Moscow would soon expel British diplomats from the country in a tit-for-tat response, Russian state news agencies reported.
Asked by journalists at a press conference on Thursday whether diplomatic expulsions would be included in a Russian response, he said: "Absolutely." Asked when those statements would be made public, he said: "Soon."
"As polite people, we'll first be delivering our response to our British counterparts," Lavrov said.
source:-theguardian