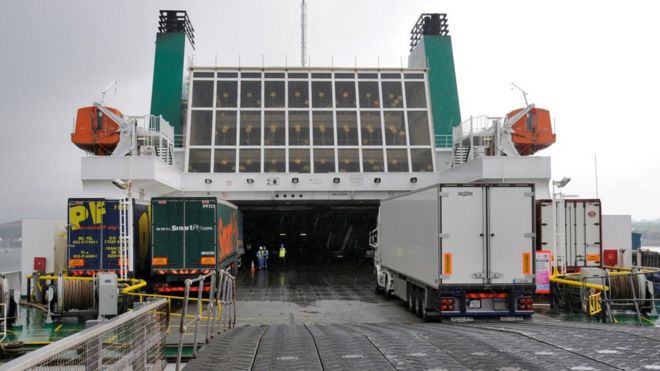 The future of the border between Northern Ireland and the Republic of Ireland is proving to be a massive challenge in the Brexit negotiations, and talk of "no deal" is making a lot of people nervous.
But it's not just in the UK that this matters, because the Republic of Ireland depends on trade with the United Kingdom for its economic well-being.
There's been a lot of talk about north-south trade across the border with Northern Ireland, and the need to avoid any border checks.
But in purely economic terms, east-west trade across the Irish Sea between Ireland and Great Britain is far more important.
The vast majority of freight traffic leaving the Republic of Ireland is exported from Dublin, with the busiest routes to ports such as Liverpool and Holyhead.
Counting containers
How much trade are we talking about? One way of measuring it is to look at the data on roll-on roll-off freight containers, many of them carrying food and other retail items that people rely on every day.
Roll-on, roll-off (or Ro-Ro) refers to containers transported on lorries or trailers, while lift-on, lift-off (or Lo-Lo) refers to containers that are loaded on to ships by cranes. (And yes, Rolos are still made of chocolate.)
Ro-Ro transport is important for produce that needs to get to market quickly, or for just-in-time manufacturing processes that rely on hourly deliveries of components.
Ireland's Central Statistics Office released figures on 29 June, which show that in 2017 553,630 loaded Ro-Ro freight containers, on lorries or trailers, were shipped from Ireland to the rest of the world.
The vast majority were heading for other ports in the EU. Only a tiny number – 24 – went to ports elsewhere. About 85% of Ireland's total EU freight trade goes via British ports – 475,925 containers last year.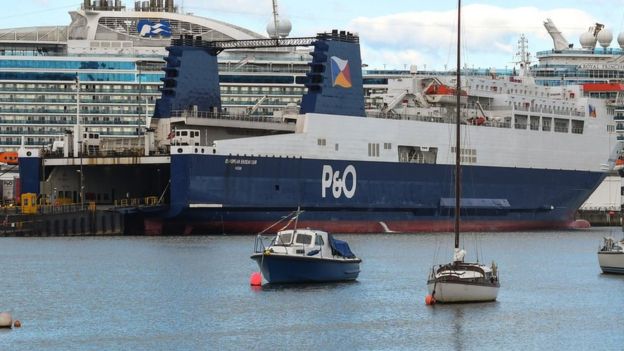 We can break that number down a bit further.
The Irish Freight Transport Association estimates that the final destination of roughly 60% of the 475,925 freight containers shipped to Britain is Britain itself.
That means the other 40% – roughly 190,000 per year – is destined for elsewhere in the EU, transiting across Britain via ports such as Dover or Hull, or via the Channel Tunnel.
No-one knows the exact number, although Ireland's Department of Transport has commissioned in-depth research that should be released shortly.
But one thing is clear: any kind of breakdown or problem posed by the failure to reach a Brexit agreement could have a huge impact, not just on Ireland's trade with the UK, but also on Ireland's trade with the rest of the EU.
Don't forget that in this article we've just looked at Irish exports. Ireland is equally dependent on trade with the UK for its imports.
New ferries
Ireland currently sends lots of its exports to other countries via Britain because it is quicker than doing the whole journey by sea.
Could Ireland try to cut out the so-called British land bridge and trade more directly with the rest of the EU?
Some steps are already being taken in that direction.
One Luxembourg-based shipping company, CLdN, has just introduced two huge new Ro-Ro freight ferries on the direct sea route from Dublin to the Dutch port of Rotterdam, and to Zeebrugge in Belgium.
The new ferries are the largest short-sea Ro-Ro vessels (ones that do not cross oceans) in the world, and can carry 650 cargo units on each voyage.
When one of them, the MV Celine, was christened in Dublin in April, the chief executive of Dublin Port Company, Eamonn O'Reilly, said: "The addition of new ships and sailings shows the shipping sector's resilience and ability to adapt to changing customer needs, particularly in response to Brexit."
"We expect MV Celine will mark the beginning of additional services to continental Europe from Dublin port over the coming years."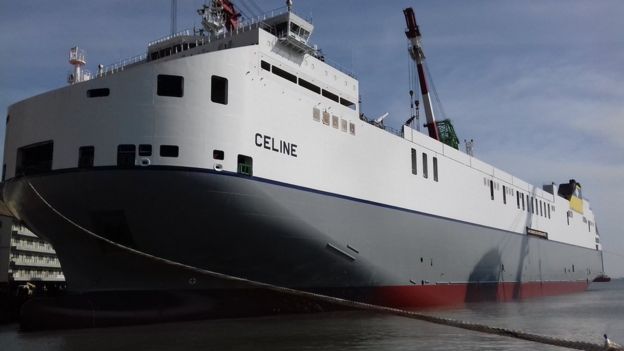 Extra freight capacity is already being phased in on ferry routes between Dublin and Cherbourg, in France, as well as between Cork and Santander, in Spain.
But to give some idea of the extent to which Ireland relies on the British land bridge, statistics from the Port of Dublin show that last year it sent 31,875 loaded Ro-Ro containers to Belgium and Holland, while it sent 188,902 containers to Holyhead alone.
So while some contingency plans are already being made, it's not nearly enough to replace the trade that currently goes to or through Britain.
And that is a reminder that Ireland needs a good Brexit deal almost as much as the UK does.
source:-BBC