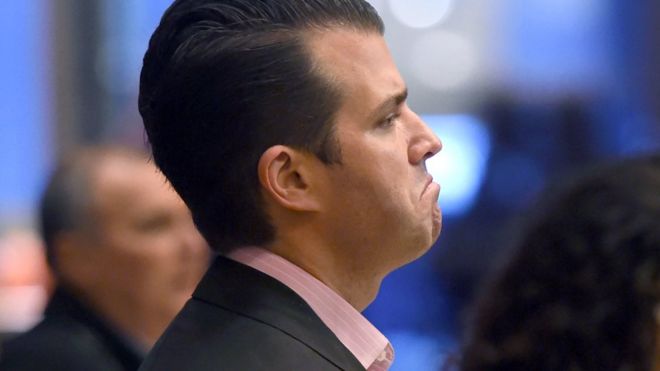 A tweet from Donald Trump Jr jokingly threatening to commandeer his daughter's Halloween sweets has generated significant discussion online.
On Tuesday, the President's eldest son suggested he would take half of his daughter's Halloween candy "and give it to some kid who sat at home".
"It's never too early to teach her about socialism," he added.
The tweet has sparked rival claims for the meanings of socialism and capitalism, via the medium of Halloween sweets.
Although there are more than 57,000 replies (and climbing) to his tweet, plus hundreds of responses on Facebook and Reddit, Adam Smith and Milton Friedman versus Karl Marx and John Maynard Keynes this is not.Trump Jr was not the first to use Halloween to make such a point about socialism. Several Trump supporters have previously joked about dressing up as self-described socialist Bernie Sanders and many expressed their support for Trump Jr's interpretation.
But others criticised him for posting an image of his daughter to make a political point and questioned the effectiveness of his allegory.
Author JK Rowling and former Star Trek actor George Takei were among those to take the bait and respond.
"Fill her bucket with old candy left by her great-grandfather, then explain that she has more because she's smarter than all the other kids," Rowling tweeted, in a jibe at the Trump family.
Donald Trump's father, Fred, ran a multi-million-dollar real estate business in New York. The President told voters in 2016 his father gave him a "small loan" of $1m to get going.
Source:-BBC