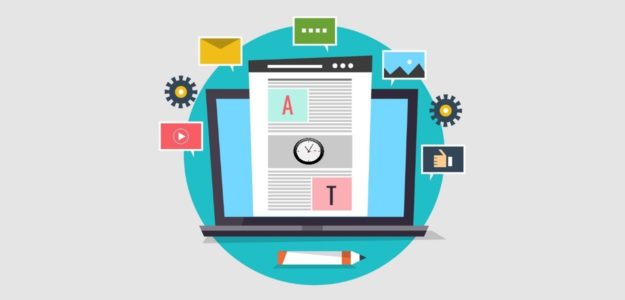 Are you wondering when should you publish blog posts? Do you want to hit that sweet spot where you get the most traffic, social shares, and comments?
If you've just written a great blog post and want it to go viral, then publishing time can play an important role.
In this article, we'll show you what is the best time to post a blog by going through key facts. We'll also show you how you can test the best time to take your blogs live.
What's the Best Time to Post a Blog for More Pageviews?
As you start blogging, you'll have many questions like what time of day should you publish a post. Or which days are best for getting the most traffic.
To answer such queries, different studies have been done where agencies and websites have gone through tons of data.
And among them is a study conducted by Shareaholic in 2011 that shows the best time to publish a blog post is early morning between 7 AM to 1 PM EST on weekdays.
The peak is between 9 AM and 10 AM, which shows when you can schedule or publish your posts.
Building upon the same point, Kissmetrics shows that 70% of users read blogs in the morning (during the AM hours).
It makes sense as people starting their day would be going through emails, planning their week, and reading up on the latest news.
That said, people do read blogs throughout the day, so you can publish posts in the later hours as well. Now let's see which days you should take your blogs live.
Best Days to Publish a Blog Post for Traffic
Along with time, different studies show that posting blogs on certain days can help generate more traffic. And which days are we talking about?
Shareaholic suggested that the best day to post a blog is Monday if you want more pageviews. Similarly, Kissmetrics also says that Monday is the best to publish a post and generate traffic.
But this varies across industries and different studies recommend other days for publishing, especially if you're looking to generate social shares, comments, or backlinks.
When it comes to engaging people on social media, you'd want to push your blog post when your users are active.
And to give you an idea of what's the best day for getting social shares, consider a study by TrackMaven. They analyzed 65,000+ blogs and suggested that blogs published on a Sunday get the most shares.
Sunday is also the least competitive day to post your articles online. So, if you want people to read your blogs and share them on social media then have a benchmark of when to publish.
But other researches suggest a different view on the best day to get social shares for your blogs. Buzzsumo and Noah Kagan did a study and concluded that Tuesday is the best overall day for generating social shares.
It's also a good day to push content on Facebook and Twitter. And if you're looking to get engagement from LinkedIn and Pinterest, then Monday is the best day.
When to Publish Blogs for Links and Comments
For getting backlinks for your blog posts, the study by Kissmetrics suggests that Monday and Thursday are the best days.
It further went on to reveal that publishing early morning on these two days around 7 AM will increase your chances of getting the most inbound links.
And when it comes to generating comments on your post, the same study suggests Saturday as the preferred day. As for the time, it recommends publishing your piece around 9 AM.
A possible reason for this could be that on the weekend's people have more time to read through your content and then come up with a reply.
So, if you have a topic that wants user opinion or start a conversation, then this is the best time to post a blog.
But what if these times don't work for your website? How can you find the best publishing day and hour for your content pieces? Let's find out.
How Do You Test the Best Time to Post a Blog?
The researches we've shown you in our article provide a benchmark but in reality, there's no best time to publish blogs.
That's because these studies use their own samples of websites to provide a generalized conclusion. And most of them are very old, going back to 2011.
A better way to find the best time to post a blog is by doing your own testing. By monitoring which days and times you get the most visitors and engagement, you'll know the optimal time of publishing.
And the best tool to help you out is MonsterInsights. It's the leading WordPress plugin for Google Analytics and makes decision-making easy by providing insights about your site's performance with detailed reports inside your dashboard.
To find the best time to post your blogs, there are two ways you can use MonsterInsights:
You can use its custom dimensions report
Using the real-time reports
Here's a closer look at each method…
1. Set Up Custom Dimensions for Best Publishing Time
MonsterInsights makes it super easy to set up custom dimensions on your website and start tracking custom data of your choice in Google Analytics.
With the help of its Custom Dimensions Addon, you can exactly see what's the best time to post a blog. Not only that, you can set up custom tracking of individual authors, post types, categories, and more.
You can follow our complete guide to custom dimensions in Google Analytics for configuring tracking of best publishing times.
And the best part is that you can view the report inside your WordPress dashboard to get insights. Just go to Insights » Reports » Custom Dimension to access the report.
As you can see, the report shows you the date and time when you got the most traffic. Using this data, you can then schedule blogs on your website.
2. Using Real-Time Reports for Best Time to Post a Blog
Along with custom dimensions, you can monitor results in real-time to find the most suitable time for posting blogs.
With MonsterInsights Real-Time reports, you can easily track the performance of your content and see when most users are active.
To view the reports, go to Insights » Reports » Real-Time. You'll then see different reports and you can start with active users on site. It shows how many people are active right now.
Another report that you can track in real-time is the Top Pages report. It shows you which content pieces your visitors are visiting at the very moment.
So, how can you use these two reports to find the optimal time for publishing?
By monitoring these reports at different time intervals, you can see when you have the most active users on your website. This will help you determine the sweet spot to attract more visitors and boost your traffic.
Other real-time reports can also help you post blogs at the most suitable time.
For instance, if you use the Top Country and Top Cities real-time report, you can find out which region or city drives the most traffic during the day or week.
You can then publish location-specific content on those days and time to get maximum engagement and visitors.
You can also go through our guide on how to set up a Real-Time Google Analytics stats dashboard.
And there you have it!
You now know how to find the best publishing time for your blog posts.
We hope you liked our article on what is the best time to post a blog. If you want, you can also go through our guide to MonsterInsights dashboard reports.
Don't forget to follow us on Twitter and Facebook for more Google Analytics tutorials.
["source=monsterinsights"]